Pentax K-S1 surfaces in new PR images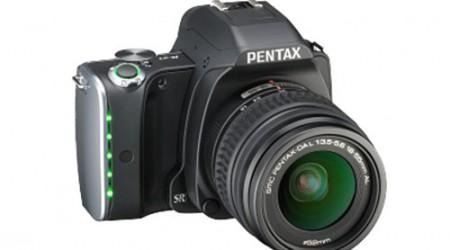 Pentax has had a fairly steady, if infrequent, number of leaks this year, and latest among them is the rumored model K-S1. Unfortunately, we don't know anything about this camera's specifications — what we do have, however, are a handful of press images said to feature the upcoming model, and from them we can glean a few details.
The images have surfaced by way of Digicame-info, which says the camera is "coming soon", but provides nothing else in terms of details. In the images, we see a rather interesting dial and an overall design that appears aimed towards usability.
There's an electronic viewfinder, and a row of green LEDs along what appears to be a very angular grip design. Purely in terms of design, the camera seems to have some things in common with the Pentax K-3 DSLR from last year.
We'll have to wait to see if more details on this latest DSLR surface, but at this point there's little to go on. This follows the Q-S1 that first leaked early this month, only to be officially debuted a few days later — maybe we'll get lucky and see the K-S1 officially revealed in the same short time span.
SOURCE: Digicame