Pentax K-3 DSLR press shot and specs leak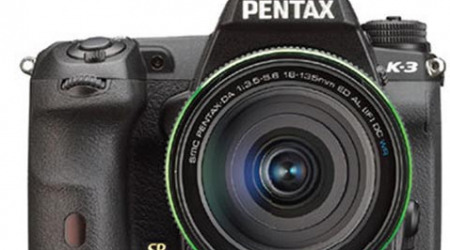 Following a leak of its specifications earlier this week, the Pentax K-3 has surfaced in the first press shot seen of the DSLR, as well as some other rumored specs that photographers can expect. According to the leaked information, the Pentax K-3 will be an APS-C based device offering new in-camera functions, a new flash, and more.
You can see the press shot above, which shows a body akin to that of the Pentax K5. That aside, according to the current leak and previous information that has cropped up, the Pentax K-3 will harbor a 24-megapixel APS-C sensor and will run on the PRIME III Image Processor. There will reportedly be software AA filtering and 86k RGB Segmented Light Metering with a sensitivity range down to -3EV.
The auto focus is said to be 27-point, with this latest leak also pegging tracking auto focus and all cross sensors with the AF. There is 4-stop SR and 8.5 max FPS, which is being reported as tentative at this time. There is also said to be some new in-camera functionality coming to the K-3 in addition to the new flash system, though what those features are isn't known yet.
As far as hardware goes, there is said to be an air-gapless LCD on the back, which is fixed in place, so those hoping for hinged flexibility will be disappointed. There is also reportedly a 100-percent 0.95x optical viewfinder, as well as a new stereo phone-out monitor port, an integrated max 2000 frames interval shooting and internal video composite, and three user-selectable modes. Connectivity comes via USB 3.0.
Word has it the Pentax K-3 will be priced at $1300 for the body only.
SOURCE: Photo Rumors