Pebble iOS Text Replies grows, iOS Email Actions in beta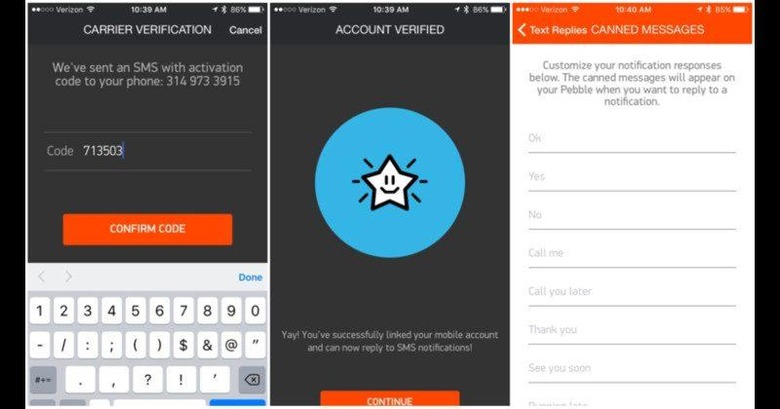 Pebble is definitely on a roll. Even while its Kickstarter is in full steam, it isn't loosing steam in developing features for its existing smartwatches. It has just announced not just the start of beta testing for iOS Email Actions but also the addition of T-Mobile and new markets for its iOS Text Replies feature. This makes Pebble the only third-party smartwatch that allows users to reply to text messages, temporarily bypassing the need for Apple to officially provide that functionality in its iOS Messages API.
T-Mobile is just the latest major US carrier to join this still exclusive club, after the feature was added for Verizon and AT&T subscribers last May. Setting this feature up requires some time because Pebble has to work directly with carriers because iOS doesn't expose any functionality to support replying to messages on third-party accessories via Bluetooth. Android users, on the other hand, have it somewhat easy because the platform has direct support for that feature.
In addition to the addition of T-Mobile, Pebble is also adding new countries to the list. With this sneak peek, the current list of supported regions are as follows:
• Australia
• The Netherlands
• United Kingdom
• US (AT&T post-paid, T-Mobile, Verizon)
The iOS Text Replies feature works for both Pebble Time and Pebble Classic generations running the appropriate firmware versions 3.13 and 3.12 respectively. Due to technical limitations, text replies won't show up on the iOS Messages app. That is why Pebble is still calling on supporters to convince Apple to open up more of its Messages API to properly and directly support things like Pebbel's Text Replies.
Pebble is also calling for adventurous users to test out the upcoming iOS Email Actions, which will let users reply, archive, and even delete e-mails right on their Pebbles. This time, however, the feature is available only on the Pebble Time series.
SOURCE: Pebble