Parrot's new slew of MiniDrones can fly, jump and swim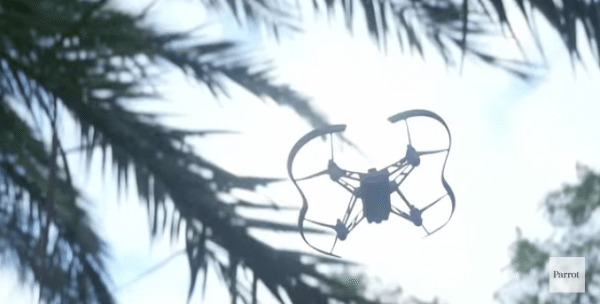 Parrot has introduced a ton of new miniature drones, which it appropriately calls "MiniDrones". The drones serve different functions, and they come with smaller price points than you'd pay for their larger counterparts. Interestingly enough, Parrot introduced the drones on its French site exclusively, though it will be launching them officially in the United Kingdom early next month. There are 13 drones that are part of three new models in total, and several of them hit the sub-$200 price point. We've a trio of videos showing them off after the jump!
Not all of the new drones are the kind that fly — take the drone in the video below, for example, which has integrated LEDs and a pair of wide-angle wheels that allow it to roll around, spin, jump up to 2.5ft, and more. It also has a speaker built in, and is controlled by using a mobile app. These will cost around 199 Euro.
The Hydrofoil MiniDrones, meanwhile, are intended for water, hence the name. They are able to float on top of water, being controlled through a hinged quadcopter that lifts upward and maneuvers the drone around. It features mobile control, as well, and include a flight mode via a detachable quadcopter. A couple different iterations of this will be offered. Price will be around 169 Euro.
There's the Airborne MiniDrone model, which comes in a Night iteration for 129 Euro and is controlled via a mobile app, and a Cargo iteration which is controlled the same way. Both have a 3 axis accelerometer, gyroscope, a VGA-resolution camera, and 1GB of storage. The Night, as you might expect, can be used in the dark thanks to integrated LED lights, while the Cargo can tote some sort of lightweight item.
Pricing in the US, as well as launch, isn't clear at this point.
SOURCE: Engadget