We've always had a soft-spot for remote control helicopters here at SlashGear, and so Parrot's AR.Drone quadricopter – which throws iPod touch/iPhone remote control, video streaming, augmented reality gaming and military-spec auto-pilot functionality into the mixture – was bound to appeal. We caught up with Parrot at CES Unveiled this evening to grab some hands-on photos and video; check out our first-impressions after the cut.
Unfortunately the WiFi-soaked show floor meant that Parrot's iPhone remote control wasn't playing ball; instead they were demonstrating the arguably more impressive (in a technical sense) auto-pilot systems. The AR.Drone navigates using two cameras – one on the nose and one facing downward – together with accelerometers and other sensors (more details in our initial post from this morning). Parrot include several brightly-colored objects which the AR.Drone can use to navigate, responding to their position so as to maintain safely in the air.
[vms 9580f74cca14cc6e9746]
It's a far more effective system than, say, WowWee's Bladestar R/C 'copters, which use a more rudimentary IR system to hover and avoid obstacles. Of course, Parrot's AR.Drone is likely to be a whole lot more expensive than the Bladestar; the company is staying quiet on exact figures, only saying that the flying gadget will arrive sometime in 2010.
It'll come with access to an SDK with which developers will be able to create their own applications – including in-air battle games – for the AR.Drone. That also means Parrot can sit back and wait for others to come up with alternative methods of remote control; as it stands, if you haven't already got an iPod touch or iPhone then factor in buying one of those as well, since there isn't a "native" controller in the box.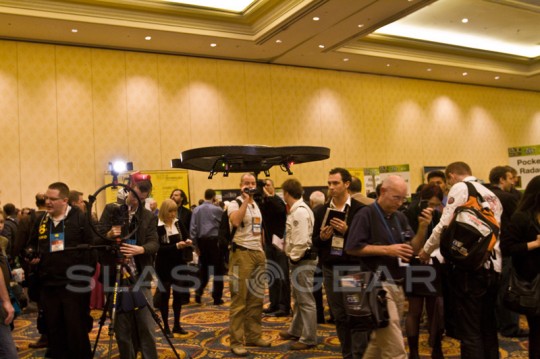 It all seems reasonably rugged, with a foam chassis that protects the blades when you experience the inevitable crash-landing, and we're assuming that direct control with the iPhone's accelerometer (which will also see birds-eye footage from the front-facing camera beamed back to the smartphone's display) will be similarly responsive as the auto-pilot mode. We'll save wholehearted appreciation until we've heard exact pricing, but right now we reckon this is one gadget a whole lot of geeks young and old might be putting on their 2010 holiday gift list.