PaperFold smartphone shows what three screens can do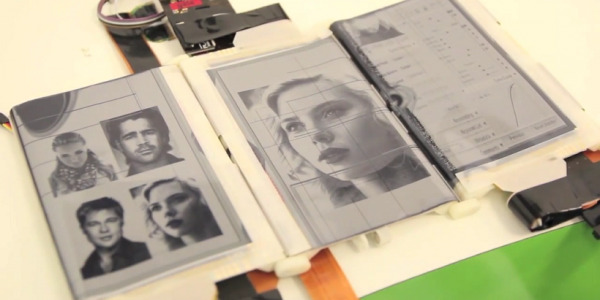 The Human Media Lab at Queen's University has taken the wraps off its new prototype smartphone, the PaperFold. With this device comes a set of three e-ink displays, which are attached together with magnets. When combined, they work together as part of a single system, but can also function individually, and in multiple shape arrangements.
The idea behind the smartphone is fairly simple: adding displays gives users extra screen space for times that call for it, whether it is looking at information while chatting, seeing a map spread out across the table, or arranging the smartphone into a laptop-like shape (all of which are demonstrated in the video below).
Said Professor Roel Vertegaal, the Human Media Lab's Director, "In PaperFold, each display tile can act independently or as part of a single system. It allows multiple device form factors, providing support for mobile tasks that require large screen real estate or keyboards on demand, while retaining an ultra-compact, ultra-thin and lightweight form fact."
Google Maps in particular is used to show off how adding displays and changing the smartphone's shape can add enable additional functionality. Folding the three screens into a triangular shape triggers the system to display a Street View building in 3D mode, for example, and shaping it into a convex "globe" triggers Google Earth.
SOURCE: Human Media Lab