Paper Craft Postcards Allow You To Build Your Own Chicago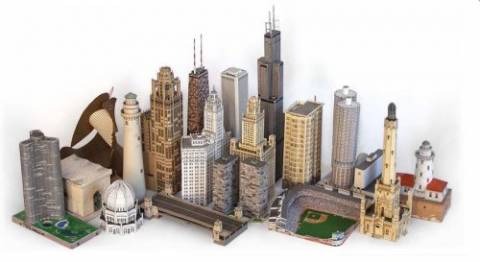 This site has started selling these awesome postcards that you can turn into 3D models of the more prominent landmarks in Chicago. There are even some models for the various travel mediums that are notable in Chicago including some trains, bridges, that type of thing.
They are made by the Wurlington Bros. Press in Chicago and are quite amazing. You'll need some sort of cutting tool that you are pretty precise with, you will also need some glue, but other than that you should be good to go.

If you need instructions for how to put them together they are available on the website. There are also some free printable models on their site just to whet your appetite. The full models only cost $1.50 each, which isn't bad. They all seem pretty easy to put together, and the shipping is real cheap. There are 25 models currently being printed and sold, and another 8 models that are free to print out and build.
Chicago's landmarks as papercraft postcards [via BoingBoing]