Pantech PG-6200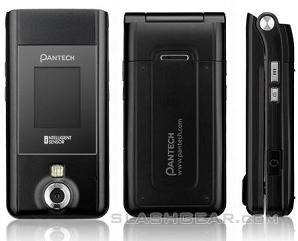 Users of the PG-6200 handset – which is also being introduced in Russia and Hong Kong this week – can utilize their fingerprints to access lock-in keys and memory dials. Only a registered fingerprint allows authorization to key in by sweeping fingerprints instead of pushing keys.
In addition to the fingerprint recognition applications, the PG-6200 has been designed to incorporate advanced multimedia functions. Key features include a 2 mega pixel camera supporting video clip recording and viewing, MP3 player functionality and user memory as large as 20MB to store images and music files.
Recently, the PG-6200 model has earned plaudits for its groundbreaking design. The handset was one of three Pantech phones honored recently at the prestigious iF (International Forum) Design Awards for excellence in the design of cellular phones. It shows its major design attributes when folded, revealing a unique side contour in the form of a smooth flowing curve.