Pantech Magnus leaks for AT&T with 4G LTE and ICS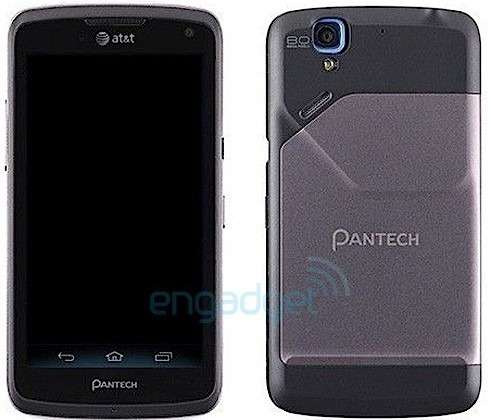 The folks from Pantech have remained relatively quite here in the US, aside from the slow rollout of some of their devices on AT&T's network. Those however have all been budget-friendly smartphones but this latest Pantech leak for AT&T is aiming for the top. This smartphone is packing specs for a top tier device and we have all the details.
According to the tipster providing details to Engadget this will be know as the Pantech Magnus and they are hoping it will be "great" because Magnus in Latin means exactly that. As you can see from the leaked image above the new device has some rather nice styling and on-screen Android 4.0 Ice Cream Sandwich navigation keys — or it could even be Jelly Bean but that is doubtful.
Sources confirm the new handset is rocking the Qualcomm Snapdragon S4 processor just like the Galaxy S III, which is a 1.5 GHz dual-core chip, 1GB of RAM, and rumored and recent benchmarks suggest this smartphone will have a 720p HD display. There's no actual details on screen size or resolution but looking over the image we can expect 4.3 to 4.5-inches here.
Then as you can see there is a front camera, 8 megapixel rear with LED flash, a speaker grill and some rather odd design humps. This looks like a mix between the DROID Incredible on the rear, with aluminum accents from old HTC smartphones. Either way Pantech is aiming higher this time around and we like it. The more competition the better. Pantech and AT&T haven't said a word yet but this pretty much makes it official. Hopefully we'll know more soon on this "great" smartphone.