Panasonic unveils ship date and pricing for 3D Viera VT25 series plasmas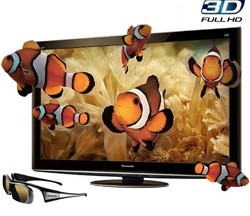 Most of the 3D TVs that are coming to market are using LCD technology. Panasonic has announced that its new line of plasma screen 3D TVs are set to launch over the next couple of months. The sets have now been priced for fans looking forward to plasma 3D home theater goodness.
The Viera VT25 series of full HD 3D plasma sets will have screen sizes up to 65-inches. The TC-P50VT25 has a 50-inch screen and will ship the week of May 3 for $2,599.95. The TC-P54VT25 will ship the same week and sell for $2,999.95.
The TC-P58-VT25 is a 58-inch 3D TV selling for $3,399.95 and will ship in June. The TC-P65VT25 is a 65-inch 3D plasma TV and will ship in June as well for $4,299.95. The sets all use active shutter 3D glasses costing $149.95 per pair and sport 5M:1 native contrast ratios and more.