Panasonic unveils new A100 wearable HD camcorder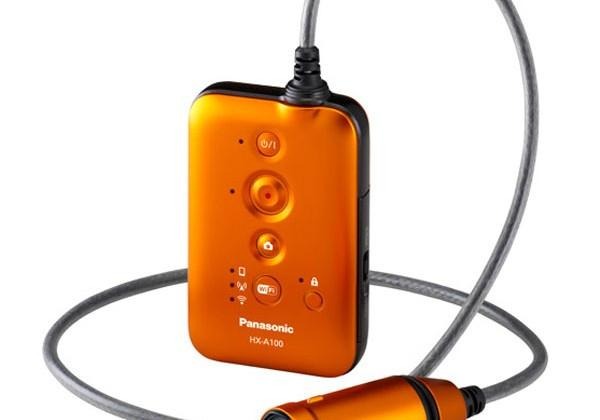 Panasonic has unveiled a slew of new digital cameras and camcorders at CES 2013. One of the more interesting new products in the manufacturer's camcorder line is the A100 point of view lifestyle wearable full HD camcorder. The camera itself has an ear hook allowing users to put the camera on the ear for point of view shooting when not wearing a helmet.
The camera can also be mounted to a helmet or to a backpack. The camera is designed to be waterproof with an IPX8 waterproof design allowing the camera to shoot in water up to 5 feet deep for 30 minutes. The camera is also dustproof to protect sensitive electronics from sand. The camera has integrated Wi-Fi connectivity making it easy to live broadcast streaming video using Ustream in full HD resolution.
The A100 is designed to interface with a smartphone or tablet for watching video and users can start or stop recording using the smartphone as well. Panasonic equips the camera with a F2.5 lens for performance in low light situations and the camera features Level Shot to automatically correct tilted images. The camera also features image stabilizer technology to help prevent blurring.
Other features include the ability to playback slow motion HD video. The camera supports multiple recording resolutions including 1920 x 1080 at 60 fps, 1280 x 720 at 120 fps, and 640 x 360 at 240 fps. Wind Noise Cut functionality inside the camera also helps reduce excessive wind noise when used outside. The camera promises up to 140 minute of recording per charge. Panasonic is taking pre-orders on the A100 now for $299.99.