Panasonic Toughbook U1 Ultra Unveiled, Available Now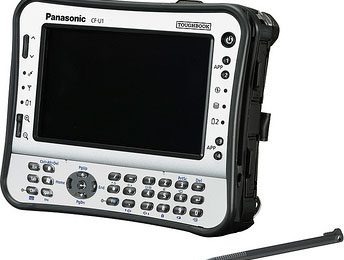 Panasonic's done well for themselves in the Toughbook line-up, and now they're hoping to get a few more customers interested in the ultra-tough computer options, thanks to the addition of the Toughbook U1 Ultra. Designed with the same mentality of all the other Toughbook lineage members, the new U1 Ultra is meant to take a beating and keep on ticking, while offering plenty of PC power under the hood to make sure that usage time isn't unbearable.
Inside, you'll find a 64GB Solid State Drive (SSD), and 2GB of memory. The processor is an Intel Atom Z530, clocked at 1.6GHz. Panasonic has gone with Windows 7 as the Operating System of choice. Panasonic has also made sure that you can see what you're doing, courtesy of the TransflectivePlus feature, which offers up to 6000 nit viewability while in the sun on the 5.6-inch WSVGA display. Panasonic says that your battery life should be an estimated 9 hours while on the go. And the whole thing weighs 2.3lbs, with the strap and batteries installed.
Panasonic says that you can drop the Toughbook U1 Ultra from up to six feet off the ground, and from any angle, and it will remain in tact and function. They also based the new portable on a fanless design, which makes it water and dust resistant. The U1 Ultra is available right now through participating Panasonic retailers, and you can pick one up for $2,799.
Press Release
SECAUCUS, N.J.–(BUSINESS WIRE)–Panasonic Solutions Company, provider of collaboration, information-sharing and decision-support solutions for government and commercial enterprises, today announced the newest member of its Toughbook® U1 ultra-mobile PC product family, the Toughbook U1 Ultra. All Toughbook U1 products combine the portability of a handheld computer, the benefits of a full Windows OS, the durability needed for enterprise applications and a suite of available integrated features. The new Toughbook U1 Ultra is equipped with a TransflectivePlus display for up to 6000 nit viewability in direct sunlight, 64GB solid state hard drive, 2GB of memory, an Intel® Atom Processor (Z530 1.6Ghz) and Windows 7®. The device is ideal for highly mobile jobs such as direct store delivery (DSD), eCitation and vegetation management in markets like supply chain management, public safety and utilities.

The Toughbook U1 family of handheld replacement computers has also undergone a number of usability and navigation enhancements, including enlarged screen icons, programmable "right click" onscreen button, a larger soft keyboard, a "zoom and pan" mode – allowing users to simply navigate robust content and a soft "Ctrl-Alt-Del" button for log-on access.

The optional 2 megapixel camera features updated software to offer faster auto-focus and improved white balancing, while the optional barcode reader has been improved with new software that allows for onboard, data and symbology configuration.

Companies can also take advantage of the optional embedded features available for the Toughbook U1, including GPS, barcode readers (1D, 1D/2D), fingerprint reader and mobile broadband to drive greater levels of productivity.

Besides being able to run the latest Windows 7 software, the Toughbook U1 Ultra is ideally suited to run legacy mobile device applications, with solutions available to run Windows Mobile and Windows CE software in the Windows 7 environment. The solution, tWinrunner™ by Clearview Software International, allows companies to maximize their legacy handheld device software investment while creating a migration path to a full Windows OS device.

"The ability to provide your mobile workforce with a reliable, powerful and adaptable handheld computer running a full Windows OS is critical for organizations attempting to stay ahead of the competition," said Kyp Walls, director of product management, Panasonic Solutions Company. "Relying on a single-purpose device that runs a pared-down or proprietary OS is no longer acceptable in environments where information is critical and computing solutions must deliver a clear ROI. The Toughbook U1 Ultra, running Windows 7 and incorporating an impressive list of available integrated features, is the ideal handheld mobile computing solution for companies with an eye on future success."

Most Rugged Toughbook

The Toughbook U1 line up is certified by an independent third-party test lab to meet MIL-STD-810G and IP65 standards for environmental conditions. The device can withstand a drop of 6 feet from any angle, and its fanless design keeps out water and dust while reducing weight and eliminating a common point of failure.

Embedded Wireless Connectivity

The Toughbook U1 family includes a variety of embedded wireless technologies, including Wi-Fi 802.11a/b/g/n, Bluetooth® 2.1 and optional Gobi2000™ mobile broadband technology from Qualcomm. Gobi simplifies complex multi-carrier wireless deployments for IT departments and allows mobile employees improved connectivity options while traveling at home or abroad. The Toughbook U1 will be certified on the Verizon Wireless, Sprint and AT&T Wireless networks, allowing workers to stay connected at all times.

"The market for field mobility solutions is currently at a crossroads where field mobile workers are being tasked with an ever expanding list of requirements," said David Krebs, director of the mobile and wireless practice at VDC Research. "As a result the mobile computers deployed to support these work flows need to be designed to not only maximize performance but also to be delivered in a highly ergonomic and portable package. Panasonic's next generation U1 handheld device – including its full Windows OS and its myriad integrated I/O and communications options – addresses these requirements with a functionality and performance optimized design."

Panasonic Toughbook U1 Ultra: Select Features and Specifications

Genuine Windows 7® (with XP downgrade option)

Intel® Atom™ processor Z530 (1.6GHz)

2GB RAM

64 GB Solid State Drive SSD

5.6" WSVGA sunlight-viewable touchscreen using TransflectivePlus technology with up to 6000 nit viewability

Circular polarizer with anti-glare and anti-reflective screen treatments

LED backlighting

Up to 9 hour battery life

Twin hot-swappable batteries

2.3lbs. (with both batteries and strap)

Fully-Rugged

Magnesium alloy chassis – encased in polycarbonate

MIL-STD-810G certified (6 foot drop)

IP65 certified sealed all-weather design

UL1604 (Class 1, Div 2) certified model

Reinforced flex-connect Solid State Drive (SSD)

Embedded Connectivity

Optional integrated WWAN / Gobi2000™ mobile broadband (EV-DO and HSPA)

Intel® Wi-Fi Link 5100 802.11a/b/g/n

Bluetooth® v2.1 + EDR

Integrated Options

Global positioning system (GPS) receiver

1D barcode reader

2D barcode reader (also 1D capable)

Fingerprint reader

2.0 megapixel auto-focus camera with dual LED lights

Numeric keypad with large buttons including navigation

2.2" (H) x 7.2" (W) x 5.9" (D)

Toughbook U1 Product Family

With the introduction of the Toughbook U1 Ultra, the product family now includes two devices to meet varying mobile workforce needs. The Toughbook U1 Essential (original Toughbook U1) features the Windows XP OS, up to 32GB SSD, 1GB RAM, a 300nit transmisive display and an Intel Atom (Z520/1.33GHz) processor. The Toughbook U1 Essential is suited for basic mobile computing needs and is an ideal alternative to Windows Mobile ruggedized PDAs and handheld devices.

The new Toughbook U1 Ultra features the Windows 7 OS, 64GB SSD, 2GB RAM a TransflectivePlus (up to 6000nit) direct sunlight viewable display and an Intel Atom (Z530/1.6GHz) processor. The Toughbook U1 Ultra is designed for highly mobile outdoor applications, including direct store delivery (DSD), eCitation and vegetation management. For more details on the Toughbook U1 family of products, go to: http://www.toughbook.com

Optional Numeric Keypad

The Toughbook U1 Ultra is also available with an optional 29-key numeric keypad for quick data entry and easy navigation. The numeric keypad also has a single "Ctrl-Alt-Del" button, making one finger operation simple while on the move. The numeric keypad is ideal for warehousing and forklift-like applications where high volume quantity input is useful and for other users that find the QWERTY keyboard unnecessary.

Pricing and Availability

The Toughbook U1 Ultra is available in the United States starting at an estimated street price of $2,799. The Toughbook U1 Essential is available in the United States at an estimated street price of 1899. Both devices can be purchased through authorized Panasonic resellers and distributors. All Toughbook mobile computers include a standard three-year limited warranty.