Panasonic ToughBook goes ultra-mobile - now you can throw it across the room and hit a few keys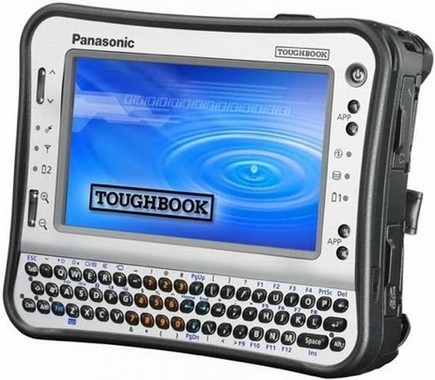 Panasonic has taken their ToughBook line to the next level with this new hardened UMPC. Its weather proof and I presume, much like its larger predecessors, can take a hell of a beating.
It has a 5.6-inch LCD and runs on the new Centrino 2 platform, or at least with the new Atom processor inside. It weighs 2.2 pounds, has a QWERTY keyboard on the front with other controls, ports, and card slots along the sides and top.
My favorite part is how they used the extra space on the front to fit in a number pad, but still yet, they were smart enough not to put it on the side, thus making it uncomfortable to type on, no they moved the right half of the keyboard over to make way for the directional buttons and number pad. No word on price or availability, but if its predecessors were any indication, it won't be cheap.
[via gizmowatch]