Panasonic TC-32LX60 32-Inch LCD User Review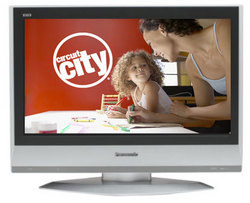 One of our reader Dan sent me his personal review to share with SlashGear readers on his recent purchase of a 32" LCD from Panasonic.
The Panasonic 32" LCD HDTV, Model Number TC-32LX60 can be purchased rather inexpensively from Circuit City for $999.00 USD. When looking for an HDTV with great value and picture quality you need not go any further than this model. It is ideal for the bedroom, for those of you who enjoy watching TV from the comfort of your room this particular unit does not take up much space. It is a little larger than the standard entertainment center but can be mounted on a wall quite easily. This particular TV comes with 720p and a 3000:1 contrast ratio which creates very attractive deep blacks and clean bright colors Response time is listed at 14ms but I've comer to learn that it is actually an 8ms response time.
I tested this particular set on Comcast DV-R HDTV and I can not even describe how amazing the picture clarity is. If you are a sports fan this set will be your new best friend. This Xbox 360 also looks amazing on this set. If you are a gamer and particularly enjoy playing your 360, this set will not let you down. There are some down sides to this television set, however. The set only comes with 1 HDMI connection. If you are looking for a second HDMI connection for multiple devices and can risk buying a set online, Panasonic has a newer version of this same set, model number TC-32LX600. Their newer version comes with 2 HDMI connections and has a few extra menu options for tweaking your picture a bit more.
Personally I do not like to buy things on line, so I went with the TC-32LX60, it not only is cheaper by about 100-150 dollars, but it can also be obtained locally in many stores such as Wal-mart and Circuit City. All in all the TC-32LX60 is a very good value for quality balance. You get a high quality picture for a low price. If you are in the market for a new HDTV for your bedroom or even living room this set is highly suggested. If you would like to purchase it and look over it in more detail you can go to the following link.
Thanks for the review Dan!