Panasonic Shows Off 3-D Camera Array For Capturing 3-D Panoramic Images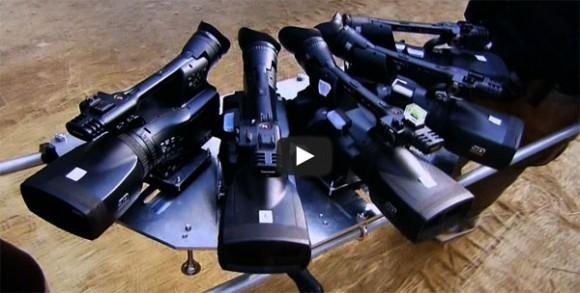 Panasonic has created a 3-D camera system capable of recording panoramic 3-D images. The idea is that the system would allow people to visit exotic locations around the world where they might not actually be able to travel themselves. The 3-D panoramic images promise to allow people to feel like they're actually at the location more than they would with a normal flat photograph.
Panasonic's system was exhibited at the Digital Content Expo 2012 in a display called Dive into World Heritage 3-D. The system works by shooting an image with five 3-D cameras at the same time. The system then shows the images using five high-definition plasma display panels.
The Panasonic 3-D cameras used for the system are AG-3DA1 3-D camcorders and are available to purchase right now. The 3-D panoramic camera system Panasonic created also has small high-performance video recorders tethered to the cameras. It seems that this would be a more interesting system if all the images were pieced together in one continuous shot rather than being viewed on individual displays.
Panasonic thinks that this imaging system would be appropriate for producing images of artworks housed in museums around the world. Panasonic also notes that it is an Olympic sponsor and is considering using this system for future Olympic Games. Check out the video below to see the 3-D camera system.
[via Diginfo.tv]