Panasonic Lumix GF1 gets ad reveal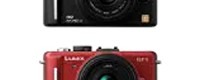 Panasonic is slowly revealing their Lumix GF1, perhaps a bit ahead of schedule. On UK sites, the GF1 is showcased in an ad–even though it hasn't been officially launched just yet.
The camera is set to be available in white, black, silver and red and will have a Micro Four Thirds lens system. It also has a hot shoe rather than a viewfinder or built-in flash. It will capture 720p video and sport an LCD screen.
It is expected that a 45mm macro lens will come with it, though nothing is confirmed yet. This new ad seems to point to a release date coming soon, though we'll likely just have to wait and see.