While many of the high end smartphones these days are getting closer to digital camera quality, some manufacturers like Samsung and Panasonic, are bridging the divide from the other side of the gap. Late 2014, Panasonic revealed the LUMIX DMC-CM1, a savvy looking compact digital camera that also boasted the same functionality as your Android smartphone. More than a year later, it is unveiling the DMC-CM10, a successor that, from the onset, looks largely unchanged from the previous model. But it differs in one crucial feature. Or misfeature if you want.
It's a bit hard to tell the difference between the CM1 and the CM10 and, to be honest, there doesn't seem to be much at all, both inside and outside. In terms of the usual smartphone specs you'll hear, you have a Qualcomm Snapdragon 801 running inside for apps, with 2 GB of RAM. This time, the software included is already Android 5.0. The screen is still 4.7 inches and still Full HD resolution. That's actually high by smartphone standards.
Actually, it doesn't qualify as a smartphone. At least not the phone part. Unlike the CM1, the CM10 doesn't support voice calls. So while it may have support for 4G LTE, which requires a SIM card of course, that is only used for data. Most likely SMS is also out of the question.
Of course, the DMC-CM10 isn't just a smartphone without the phone. That screen would more likely be used as a camera viewer. Because, let's face it, primarily, a digital camera. Here, it won't disappoint, much like the first CM1 didn't. It has that 1.0-inch 21 megapixel CMOS sensor, a VENUS Image processing engine, and the 28 mm F/2,8 lens from the renowned LEICA, just among other things to boast about. And like with the CM1, switching between smartphone and camera functionality is as easy and seamless as pushing as switch. And with a control ring around the lens, you can also enjoy the feel of operating the device as if you were operating a full digital camera.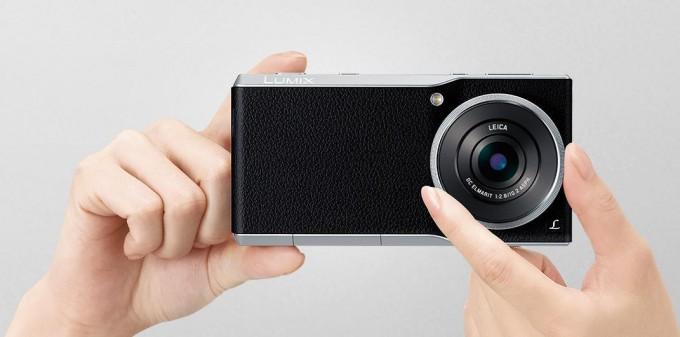 Panasonic boasts that the DMC-CM10 has the world's thinnest body for a camera smartphone of this kind. And while compact, it is nonetheless capable, allowing users to take 4K video, even continuous shooting mode, and that all time favorite time lapse.
The company has not yet disclosed availability details for the Lumix DMC-CM10, though it did take almost a year for the CM1 to land in the US after Panasonic announced it. Without the telephony functionality, it could also come cheaper.