Panasonic GX7 digital camera image and specs leak with on-sensor stabilization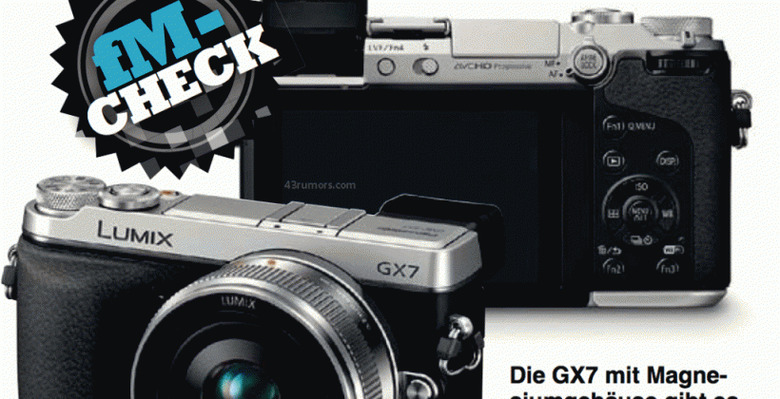 Panasonic is gearing up to release a new digital camera – the GX7 – based on the Four Third L1 device. Little has been known about this upcoming device until now, with a leak having surfaced from the German magazine Foto Magazine showing both the front and back of the device, as well as a roster of its specifications.
According to the leaked information, the Panasonic GX7 will feature a 16-megapixel sensor, although some past leaks have indicated it would feature an 18-megapixel offering. As 4/3 Rumors pointed out, this could mean the camera utilizes the larger sensor while having 16 effective megapixels, which isn't unheard of, though nothing official is known either way.
That aside, the body itself has quite the retro flair and is made from magnesium, being available in either all-black or a silver and black color combination. The LCD is hinged so that it can be tilted, and measures in at 3-inch inches with 1.04 million dots. There's also an integrated stereo microphone in the camera to go alongside the video recording feature.
Reportedly, the GX7 will have an on-sensor image stabilizer, which will be a first for Panasonic if it proves to be true. There's also an electronic view finder, which is also tiltable and has 2.76 million dots. The shutter speed is said to go up to 1/8000, and there's a 5-frames-per-second image burst setting, which drops by a single frame if continuous autofocus is used.
Not much else is known beyond this, except that connectivity will be comprised of both WiFi and NFC, and that there's focus peaking. The body of the GX7 will be priced at 1,000 Euros, and will be launched in September. Two different kits will be available as well, one with a 14 – 42mm lens and with a 20mm lens.
VIA: 4/3 Rumors