Palm Pre takes home Best In Show award at CES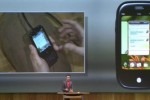 Palm just won Best In Show as well as the People's Voice Award over Sony's new Vaio P at he Consumer Electronics Expo (CES) on Sunday with the announcement of the new Palm Pre. This new smartphone runs the new webOS operating system that Palm has been working on recently.
This device features a touchscreen as well as a slide out full QWERTY keyboard. webOS is designed from the ground up to have an always on data connection. The Palm Pre also can be used with a wireless charger to reduce the need for cords in your home. The Pre will give Sprint a much-needed jump as it will exclusively be released in the first half of 2009.
Palm was handed the Best In Show award by CNET, in partnership with the Consumer Electronics Association. The Pre is the first mobile phone to take home the Best In Show award at CES. Palm has really redeemed themselves with this announcement, now lets hope the handset performs in the filed as well as they claim.
Make sure to check out Pre Community for everything Palm Pre!