Palm Pixi powered by WebOS [Hands-on]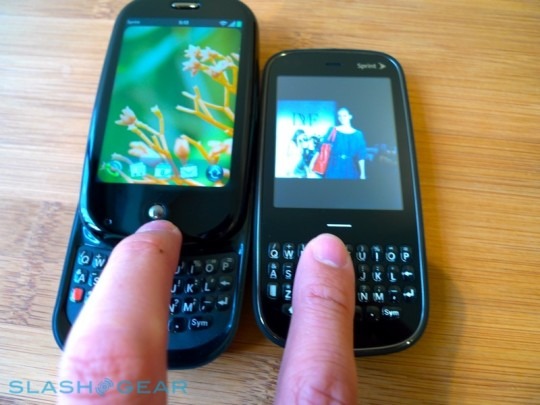 Rumors of Palm releasing a candybar phone with front-facing QWERTY keyboard have been around since the launch of the Palm Pre.  Well, as of tonight the Pixi is no longer a rumor.  Similar to the Palm Pre, Pixi is powered by WebOS and has a multi-touch capacitive display, 8GB of internal user storage memory, the same removable 1150 mAh battery and proximity sensor, among other things.  However it squeezes all of that into an incredibly compact casing: just 111 x 55 x 10.85 mm, thinner than an iPhone 3GS.
Unlike the Pre, the Pixi's display size is 2.63-inches 320 x 400 resolution, and it has a 2MP fixed-focused camera with LED flash; there's also no WiFi, so users will be reliant on Sprint's EVDO Rev.A network.  Pixi is also the first handset to launch with Qualcomm's high-performance MSM7627 chipset.  According to the Palm execs I spoke to, Pixi will not be able to handle the same number of opened Cards as the Pre.  However, in the hands-on time I had to use the smartphone it seemed reasonably quick and snappy.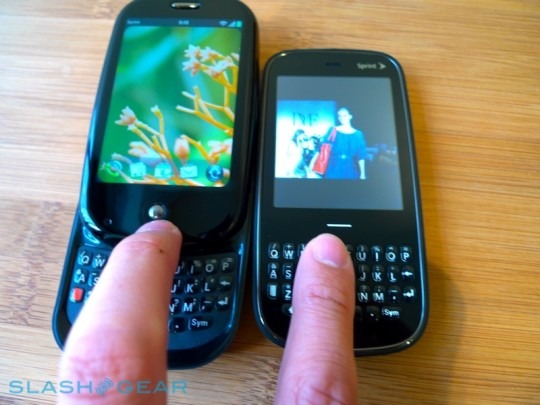 A side-product of the non-sliding design is that the QWERTY keyboard has been reworked, and while it's narrower – since the Pixi is narrower than the Pre – the buttons are also more raised and show marked signs of tactile improvement over the first webOS phone.  Palm have also dropped the hardware Home button, replacing it with a totally touch-sensitive strip running in-between the display and the keyboard.  Like the Pre, the Pixi's capacitive panel stretches down over the lower edge of the LCD and into this black center strip, and is used for triggering gestures, bringing up the webOS launcher, and other things.
Palm is also introducing the Palm Pixi Artist Series, designed by artists I've never heard of.  Nonetheless, these numbered, limited-edition back covers let you change designs to suit your mood. You can see the first collection in the series, as well as information about the artists, at www.palm.com/artistseries. Palm will be showcasing the Pixi with the Artist Series covers this week at the Mercedes-Benz Fashion Week in New York (Sept. 10-17).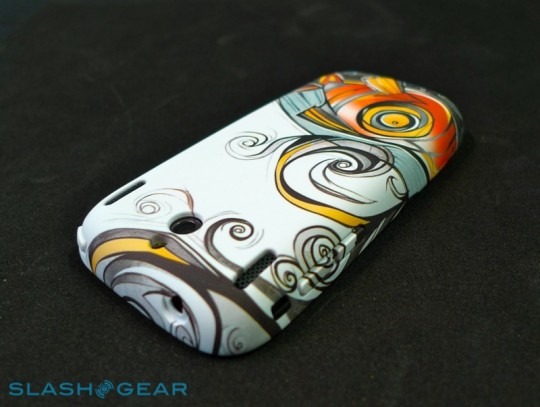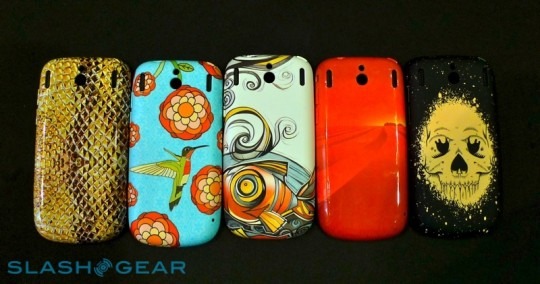 Those back covers – together with the Pixi's standard panel – are compatible with the Palm Touchstone inductive charger system.  The smartphone also keeps the 3.5mm headphone jack and traditional Palm ringer-switch of the Pre, together with GPS support.  However the Pixi will bring along some new webOS functionality when it launches, including boosting Synergy support to include LinkedIn and Yahoo!, and a new native Facebook application.
The Palm Pixi phone will be available on Sprint sometime this holiday.  The price is still forthcoming, but I suspect that it'll be around $99 after mail-in rebate and 2-year contract.  It's worth noting that effective today the Pre phone from Sprint is $150 after an instant rebate and $100 mail-in rebate.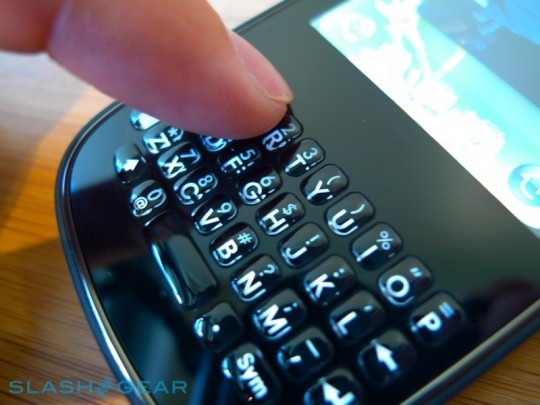 Palm Pixi hands-on demo:
[vms 78b84f3d5d92f4faa000]
My initial thoughts on the Pixi: it's thin, lightweight and highly pocketable. That being said, the lack of WiFi might turn a lot of potential buyers away.
Palm Pixi Press Release:
Thin Palm Pixi Phone Puts

Fast, Intuitive Communication at Fingertips

Palm's Thinnest Phone Yet Expands Palm webOS Line with Customizable Style

SUNNYVALE, Calif., Sept. 9, 2009 – Palm, Inc. (NASDAQ: PALM) today introduced the Palm® Pixi™ phone for faster, more intuitive and personal communication in a compact and customizable design.(1) With the instinctively useable Palm webOS™ platform, strikingly thin design, a visible full keyboard and fashionable personalization options, Palm Pixi lets you express yourself in amazingly useful ways. It's scheduled to be available exclusively from Sprint in time for the holidays.

"With Palm webOS, we're creating a new, more intuitive smartphone experience defined by unmatched simplicity and usefulness," said Jon Rubinstein, Palm chairman and chief executive officer. "Palm Pixi brings this unique experience to a broader range of people who want enhanced messaging and social networking in a design that lets them express their personal style."

In addition to linking your information from Google™, Facebook and Exchange ActiveSync, Palm Pixi adds Yahoo! and LinkedIn integration to Palm Synergy™ and assembles it all in a single view.(2) You can get your Yahoo! contacts, calendar and IM, and access to your LinkedIn contacts, including job titles. Synergy on Palm Pixi makes messaging easier by showing you all your conversations with the same person in one chat-style thread, so you can start a conversation on AIM Instant Messenger, Google Talk™ or Yahoo! Messenger and continue it by text message later.(3)

Complementing the phone's already rich Facebook integration with the contacts, phone, calendar and photo applications, a new Facebook application will be available with Palm Pixi so you can see and comment on all the latest news from your friends, as well as easily update your status. The phone's full QWERTY keyboard puts it all at your fingertips, and the multi-touch screen lets you move back and forth between open applications using natural gestures.(4) The unique removable back cover is rubberized, making it scratch-resistant, slip-resistant and durable.

Personalization with Style

For those who want to express themselves with some extra style, Palm is introducing the Palm Pixi Artist Series. Designed by some of today's most unique and compelling artists, these numbered, limited-edition back covers let you change designs to suit your mood. You can see the first collection in the series, as well as information about the artists, at www.palm.com/artistseries. Palm will be showcasing the fashionable new Palm Pixi with the Artist Series covers this week at the Mercedes-Benz Fashion Week in New York (Sept. 10-17).

You can also tailor Palm Pixi to your interests with downloadable applications from the Palm Beta App Catalog, including the latest entertainment and social networking applications such as Local Concerts by iLike, and Yelp™.(5) You can use Palm media sync to customize your phone with music, photos and videos from iTunes (Versions 8.1.1-8.2.1)(6), or use the on-device Amazon MP3 store to purchase individual songs or full albums over-the-air.(3)

"Palm Pixi continues Sprint's leadership in providing useful and innovative devices on America's most dependable 3G network,"(7) said Dan Hesse, chief executive officer at Sprint. "We are pleased to be the first carrier to bring this device to market and offer both devices in the growing Palm webOS family. Sprint's Everything Data plans, which provide unrestricted access to the Internet, mobile content and applications, and our Ready Now retail experience make for a perfect combination with these new Palm products."

The Sprint Mobile Broadband Network reaches more than 271 million people, 18,652 cities and 1,838 airports, and Sprint's networks are now performing at best-ever levels.

Customers who purchase Palm Pixi will benefit from Sprint's Ready Now, which the company pioneered to help customers leave the store educated, comfortable and confident about the phones they're taking home. It is like having a free personal trainer that educates you on all your phone can do by setting up all the applications you want to use on the device.

Palm Pixi is also the perfect complement to Sprint's Simply EverythingSM plan, which provides unlimited nationwide calling, texting, email, social networking, web browsing, GPS navigation, Sprint TV, streaming music, NFL Mobile Live, NASCAR Sprint Cup Mobile and much more for only $99.99 per month. It's a savings of $1,200 over two years versus some comparable competitor plans.

Palm Pixi Features

High-speed connectivity (EVDO Rev. A)
2.63-inch multi-touch screen with a vibrant 18-bit color 320x400 resolution TFT display
Gesture area, which enables simple, intuitive gestures for navigation
Exposed QWERTY keyboard for fast messaging
Robust messaging support (IM, SMS and MMS capabilities), including Google Talk, AIM and Yahoo! IM
High-performance, desktop-class web browser
Integrated GPS(8)
Multimedia options, including pictures, video playback and music, and featuring a 2-megapixel fixed-focus camera with LED flash, and a standard 3.5mm headset jack
Email, including Exchange ActiveSync (EAS) (for access to corporate Microsoft Exchange servers), as well as personal email support (Google push, Yahoo! push, POP3, IMAP)(9)
Bluetooth® 2.1 + EDR with A2DP stereo Bluetooth support
8GB of internal user storage (~7GB user available)(10)
USB mass storage mode
MicroUSB connector with USB 2.0 Hi-Speed
The first handset to launch with Qualcomm's high-performance MSM7627™ chipset
Proximity sensor, which automatically disables the touch screen and turns off the display whenever you put the phone up to your ear
Light sensor, which dims the display if the ambient light is dark, such as at night or in a movie theater, to reduce power usage
Accelerometer, which automatically orients web pages and photos to your perspective
Ringer switch, which easily silences the device with one touch
Removable, rechargeable 1150 mAh battery
Dimensions: 55mm (W) x 111mm (L) x 10.85mm (D) [2.17 in. (W) x 4.37 in. (L) x 0.43 in. (D)]
Weight: 99.5 grams (3.51 ounces)
Sprint services, including Sprint TV® and Sprint Radio, Sprint Navigation, Sprint's exclusive NFL Mobile Live and NASCAR Sprint Cup Mobile Live

Availability and Pricing

The Palm Pixi phone is scheduled to be available from Sprint in time for the holidays. Pricing for the phone, as well as the limited-edition Palm Pixi Artist Series covers, will be announced closer to availability. Customers who would like to register to receive additional information about Palm Pixi and be notified when it's available can register at www.palm.com/pixi.

In addition, effective today the Palm Pre™ phone from Sprint is available for $149.99 with a two-year service agreement and after a $150 instant rebate and $100 mail-in rebate. You can find this great pricing at Sprint stores, on the web (www.sprint.com) and by calling Sprint's telesales group (1-800-SPRINT1). With the new Palm Pixi phone, and Palm Pre at a lower price, Palm and Sprint are bringing greater choice of Palm webOS phones to a larger audience.