Palm Centro Review
Well, I got mine earlier today and have been playing with it; it's the same color as the OnCentro one. I must say, I love it.
First off, I have a Helio Fin with a 3MP cam, and a Moto Q with a 1.3MP cam with flash, the Palm Centro, in my opinion, took a better picture than either of the other two. That amazed me.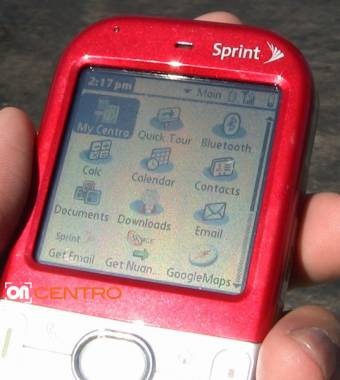 Then I started playing with some of the Sprint specific services, I don't know why I ever even thought about using AT&T in the past, first off I was able to watch an episode of Grey's Anatomy that I missed right on the device. Actually I didn't watch the whole thing because I didn't really miss it, but I watched part of it just to prove to myself that I could in fact watch TV on this little phone.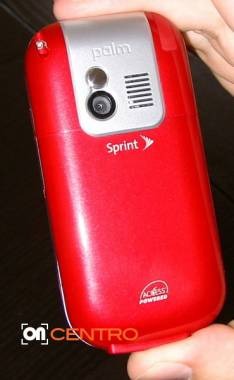 Mostly I have been listening to the radio stations and other music channels that you can stream through the device, there are so many of them, you start with probably close to 100 audio only music streams and among some of those lists there are music video channels. After that, you can purchase, for a monthly fee, more channels including a set of 20 from Sirius. So as you can imagine, I have been listening to music on this thing since I got it. Sadly I didn't get any headphones with mine, and it uses the smaller jack, for which I don't have an adapter or any headphones that fit, but the quality, and volume of the built in speaker more than makes up for it, it really is amazing. I could literally hear music from 2 rooms away after I turned the volume up to max, and it was still understandable; there was some crackle in the highs when I cranked it up, but other than that, it sounded great.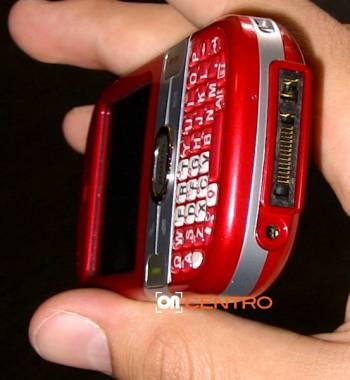 Email was a breeze to set up using the custom Sprint Email application, there was another pre-installed email application, but I didn't even bother testing it because the Sprint one was so easy, and it was free. For instant messaging there was another built in app that handled Microsoft (I think it was Live, I still call it MSN in my head), Yahoo, and AIM, once again, pre-installed, free, and great, it was easy to set up, and is easy to use, in fact it was almost exactly like using any of those apps on your desktop.
I don't know how many of you have ever used a fairly recent version of Palm's OS but I'll go ahead and admit that I have never used a single Palm device in my life before, so I was like a kid in a candy store playing around with everything and trying to see what everything did. It's easy to navigate and easy to use, I like the Palm OS. Now I downloaded a ringtone and wanted to set it to the default and I wanted to change the color scheme of the OS, the only hard part of either operation was finding the menu where those options were, but after I did that it was easy to change.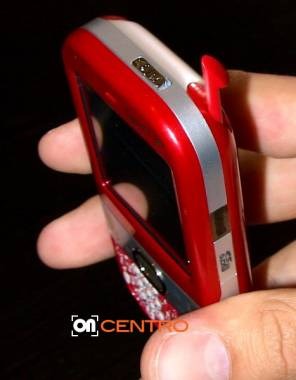 Now for the hardware, the touch screen is nice, I was jealous of my friend's iPhone because he had touchscreen everything, well, now with this device, so do I. I can even dial numbers with the touchscreen, really the only thing you can't do with just the touchscreen is type alphabetic characters. I haven't really had much use for the stylus as I have managed to do just about everything with my fingers. Now for the keyboard, I'll admit, I am Jimmy Fat Fingers himself, so typing on it hasn't exactly been easy, I have come to the determination that the keys aren't too small, there just isn't any spacing between them, and that's what makes it hard. However, as long as I haven't been trying to multitask typing and anything else, as long as I have been paying attention, it hasn't been too bad typing on it, and a keypad that requires you to pay attention to what you are doing isn't an entirely bad thing, especially when it allows Palm to pack so much into something so little.
The microSD card slot is easy to access, even if you don't have finger nails, you can remove the battery cover and gain access, but if you do have tiny razors on the end of your fingers, you can open it without removing the battery cover. The IR port is just on the side, I can't readily think of any time I have every used an IR port except for that one time a network printer went off the network and the only other way to use it was through IR, but that's it. The mute switch on the top, and the two volume buttons on the side are nice, I especially like the mute switch, I have never had a phone with a switch for that, its always been in the menu somewhere. I have classes a couple days a week, so being able to shut my phone up with just a switch, I think I could get used to that.
Below the two volume buttons is a side button that just about every other application on the device wants to map itself to, no not really, just the email app and the voice command app. I gave it to the voice command app, I have definitely seen better implementations of the voice command service, namely on my Helio and on the Moto Q, I love the voice command on both of those, the voice command app that's available for the Centro, well it really kind of sucks.
Lastly the camera, its nice, its easy to use, and you can do stills and video with it. I have yet to try video with it though. I did take a still, and like I said at the top, I thought it was better than any other handset I have ever had. Even better yet, the lens is easy to clean. I know that with previous phones I have had, you put them in your pocket, and the lens gets covered with lint, well some of those phones had lenses so recessed you had to have a Q-Tip to get it clean, which sucked when you wanted to take a picture. Below is a picture I took with the Palm Centro (great beer by the way).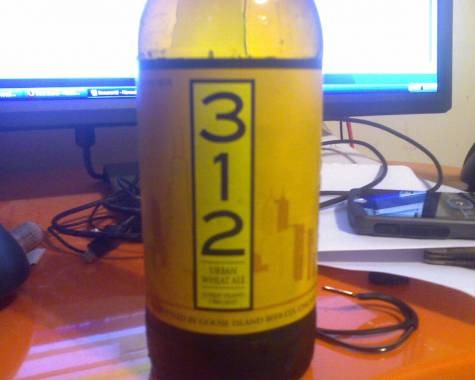 Well, that's it, I love it so far. I can't give it a perfect score, because the keyboard is kind of hard to use, but its up there. Personally, I would give it a 4, almost a 4.5, out of 5. I really do think that the lack of spacing in between the keys on the keyboard may be this things only downside. For less than $100 with a 2-year contract, you could do a lot, and I mean lot worse than this, in fact I don't think there is currently a better handset on the market for the same price point as the Palm Centro.