Overwatch's next hero is a hamster in a mech [Update]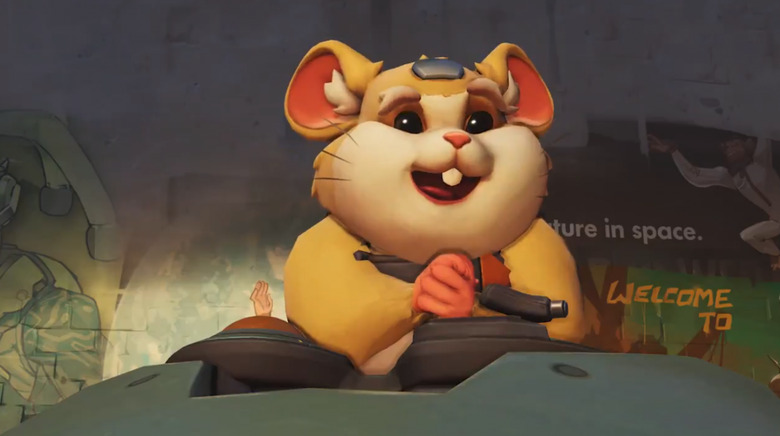 Yes, you read that headline right, and no, we're not joking. Blizzard has revealed the next hero coming to Overwatch, and instead of a human or omnic character like most would probably expect it to be, it's a hamster. To put a finer point on it, it's a hamster in a rolling mech that has been outfitted with guns.
This appears to be Hammond, a hero Blizzard has been teasing for a little while now. While the teases led many to believe that the new character would be an animal of some sort, few probably guessed it was going to be hamster. Of course, as is usually the case with fandoms, someone did manage to figure it all out a couple of days ago, posting a list of reasons why they believed Hammond to be a hamster to Reddit.
The champion revealed. pic.twitter.com/0Fdpg2iBcs

— Overwatch (@PlayOverwatch) June 28, 2018
Hammond, it seems, comes from the Horizon Lunar Colony, the same facility that genetically engineered Winston. More on Hammond's backstory will likely be revealed in the coming days, but even just looking at the brief teaser Blizzard shared on Twitter, it's clear that Hammond has developed capabilities well beyond those of standard hamsters. At the very least, he's smart enough to navigate a hamster ball outfitted with plenty of deadly hardware, something which your run-of-the-mill hamster would (hopefully) struggle to do.
Sadly, specifics on Hammond's kit don't exist at the moment. We're going to have to wait until Blizzard either publishes an overview on the official Overwatch site or adds the little furball to the game's public test realm. Hopefully we don't have much longer to wait until we find out just what Hammond will be capable of in-game, and once we do know more, we'll be sure to update you.
UPDATE: Blizzard has published a pair of new videos that give us more information on Overwatch's 28th hero. Though the hamster's name is indeed Hammond, the hero in general – which seems to include Hammond's mech – is called Wrecking Ball. In a new developer update, Overwatch game director Jeff Kaplan says that Blizzard's goal with Wrecking Ball is for him to be a "very disruptive, high mobility tank."
He gets his mobility from his mech, which allows to him to roll around the battlefield and even attach a grapple to the environment, enabling him to swing around and become – you guessed it – an actual wrecking ball. While grappling, Wrecking Ball can activate his Pile Driver ability, which slams him into the ground and sends enemies flying upward. His Adaptive Shielding ability will grant him temporary shields that get stronger as he's surrounded by more enemies, while his ultimate will lay down a minefield that can be useful in zoning enemies out of certain spaces.
You can learn more about Wrecking Ball by watching the origin video above, or by heading over to the official Overwatch website. He's available on the Overwatch PTR beginning today, so if you have it installed on your PC, fire it up and check him out. There's no word on when he'll arrive on live servers, but with this launch on the PTR, we likely don't have long to wait.