Outlook on the Web will soon offer likes and mentions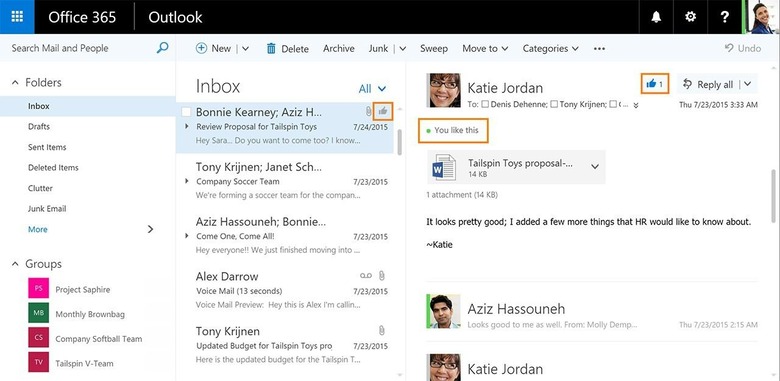 Email and social media are too different beasts, but for some reason Microsoft seems to think they should act similar. As such, the company detailed in a statement on Wednesday changes coming to Outlook on the Web: namely, it is getting likes and @mentions, taking pieces out of both Facebook's and Twitter's books. Both of the features work exactly the way you expect them to, and they're rolling out now.
Both of the features work exactly like you're used to them working, but they're only visible to those who are in an email thread. The likes show that you like an email for one reason or another, alerting others to that fact — in theory, this means they'll be able to find the emails that are most relevant or worth reading.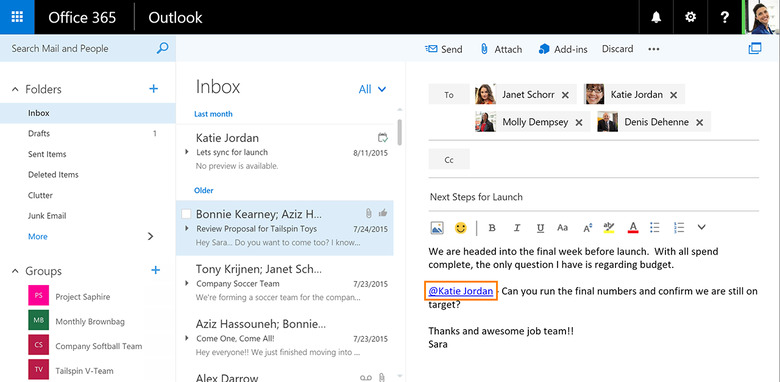 One can like an email by clicking the "thumbs-up" icon on the reading pane. Within the email, others will see that you liked it; furthermore, you'll get an email if someone else likes an email you wrote. Then there's mentions, which highlight a specific person and call their attention to the message, just like how Twitter works.
The mentions feature can also be used to call someone's attention in a new thread they're not originally part of. To mention someone, put an "@" in the message and the contact's list will appear. Choose the person from the contacts to add them. The mention will be highlighted in blue, and they'll get a notification.
The features started rolling out to users earlier this week, first to Office 365 First Release customers with Exchange Online in their plan. The feature will go out to other Office 365 commercial users who are eligible later this month. Those who use Outlook.com on the Web will see the features arrive starting in December.
SOURCE: Microsoft