Outlook 2016 for Mac is getting Google Calendar and Contacts support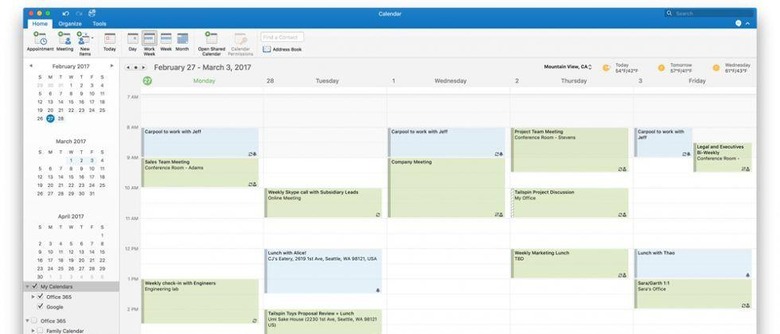 If you're an Outlook 2016 for Mac user and part of the Office Insider Fast community, your app now supports Google Calendar and Contacts. This is the beginning of what will be an eventual rollout to all Outlook 2016 for Mac users, with this limited release being intended to get feedback and make adjustments as necessary. Insiders can expect the feature's availability to rollout over the next several weeks, while everyone else will see the features some time later this year.
Outlook for Mac is, of course, Microsoft's email software for Apple's computers. The software can handle email from Google's Gmail service, and now the support for Google's calendars and contacts is inbound, too. Says Microsoft, the support will include the 'core actions' users need, including editing, deleting, and adding items.
Since you'll likely to also be using the Outlook or Google apps on mobile, these changes will also sync with your Android or iOS devices, keeping everything updated across your various gadgets. If you're using your Gmail with Outlook 2016, you'll likewise get access to things like the Focused inbox and special features related to packages and travel reservations.
If you're hoping to utilize the new Google account support yourself and don't want to wait, you can become an Insider and hope you get access by heading into Help > Check for Updates, as well as following these instructions.
SOURCE: Office Blog