OtterBox reveals wireless charging system with stackable batteries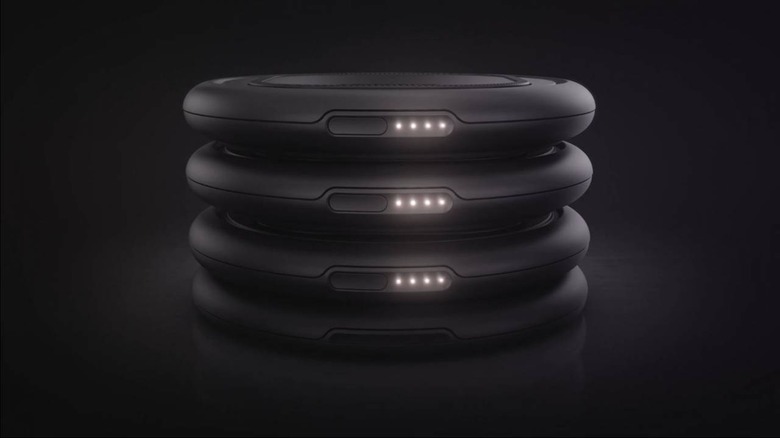 OtterBox, the company best known for its durable phone cases, has introduced its new OtterSpot Wireless Charging System with stackable, highly portable wireless charging pucks. The device opens the door for portable wireless charging, meaning there are no wires involved thanks to the OtterSpot Wireless Charging Batteries.
Wireless phone chargers typically involve a flat surface that is either horizontal on a surface or vertical at a slight angle, enabling users to use the device while it is charging. These chargers are plugged into a wall outlet while wirelessly charging a device, the big advantage being that the user can simply place their phone on it rather than having to connect a cable to the handset.
OtterBox's new OtterSpot system is different, instead featuring a 36w wireless charging base that recharges a puck-shaped battery and a wireless phone at the same time. These wireless batteries can be grabbed off the charging base and taken with the user to other places for charging their device without any cables.
The design enables users to wirelessly charge their phone in places that are convenient instead of limiting them to places where there are wall outlets. The wireless charging base could, for example, be placed on a desk with the wireless batteries stacked on top of it. When the user wants to go to a different part of the house, they could grab one of these batteries off the base and take it with them.
The batteries can be used with any Qi-enabled device; each unit features a 5,000mAh capacity and up to 10W wireless charging speeds. Each of these wireless batteries also feature a USB-C port for charging a device with a wired connection, as well.
The OtterSpot Wireless System, which features the charging base and one wireless battery, is priced at $129.95 USD. The OtterSpot Wireless Battery and charging bases are available separately for $69.95 USD, as well.