Oscium accessory and app turns iPad and iPhone into mixed signal oscilloscope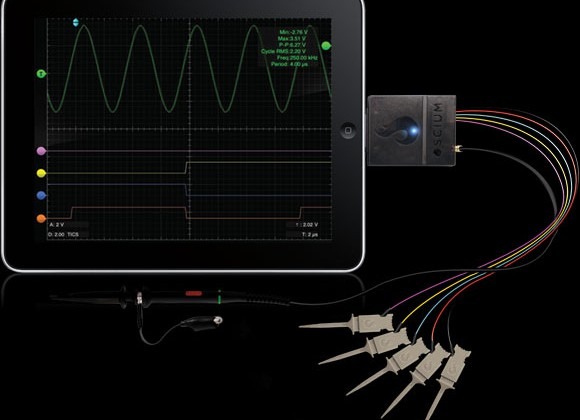 I will cop to not being geek enough to know what an oscilloscope is really for. I have never used one and haven't had the need to learn. If you do know what one is and you know how to use it, a new app and accessory for your iOS device like the iPad or iPhone will turn it into a mixed signal oscilloscope.
The device is from Oscium and the app in on the App Store right now. The hardware accessory is set to ship on April 29 and it will work with the touch, iPhone, and iPad with iOS 3.1.3 and higher. You can pre-order the hardware accessory for the device right now.
The price for the hardware that plugs into the charge and sync port is $297.99. It has five different color leads coming off and is only offered via the iMSO-104 online store. The company says that the thing is appropriate for hobbyists, students, and application engineers.