Original Star Wars Trilogy to hit select theaters this August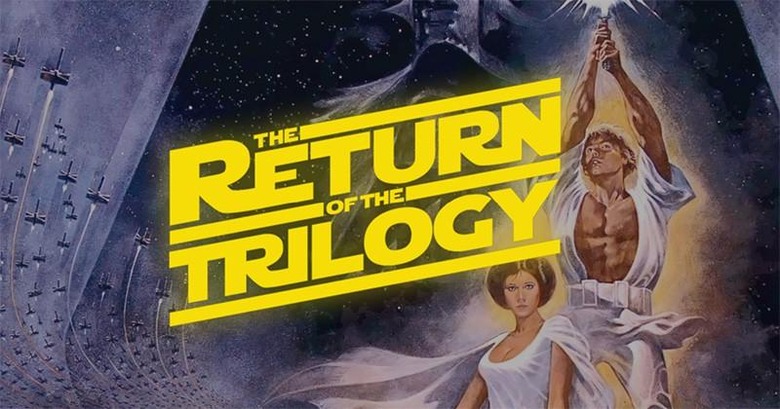 Star Wars is a pretty big deal this year. The Force Awakens just recently came out on Blu-ray, and we just got our first look at Rogue One. But the original trilogy is still near to many of our hearts, and it's going to be getting some love on the big screen later this year.
The Alamo Drafthouse is taking the original Star Wars trilogy on the road, and more than 20 lucky cities will be getting a marathon screening, complete with quizzes, prizes, and more. They'll be treating each screening as its own special event, and are encouraging everyone who attends to dress up as their favorite Jedi, scoundrel pilot, or rebel scum.
While many people would love to see the films shown on the silver screen in their original theatrical versions, the Return of the Trilogy event won't be doing so. Instead, they'll be showing the Special Edition version that was released back in 1997. Just cover your eyes and pretend that Han was the only one to shoot.
So far, the company has announced 18 screenings, though they've said that they will be adding additional cities and venues as the event draws nearer. Each of the screenings will take place during the month of August. As for getting your tickets, they will be going on sale on Star Wars Day, May the 4th. No word on how much the tickets will run, just yet.
If you're wondering whether or not The Return of the Trilogy is coming to your town, here are the confirmed dates and locations so far:
August 6 – San Francisco, CA / The Warfield

August 6 – Kansas City, MO / The Midland Theatre

August 6 – Washington, D.C. / Warner Theatre

August 6 – Los Angeles, CA / The Theatre at the Ace Hotel

August 6 – New York, NY / The Town Hall

August 6 – Miami, FL / Olympia Theatre

August 6 – San Antonio, TX Majestic Theatre

August 7 – New York, NY / Kings Theatre

August 7 – Dallas, TX / Majestic Theatre

August 11 – Austin, TX / The Long Center for the Performing Arts

August 12 – Austin, TX / The Long Center for the Performing Arts

August 13 – Austin, TX / The Long Center for the Performing Arts

August 13 – Philadelphia, PA / The Keswick Theatre

August 13 – Louisville, KY / Brown Theatre

August 20 – Oakland, CA / Paramount Theatre

August 27 – Boston, MA / The Boston Opera House

Date TBD – Houston, TX / Venue TBD

Date TBD – Denver, CO / Venue TBD
Source: