Order in Chaos clock should be from Tokyoflash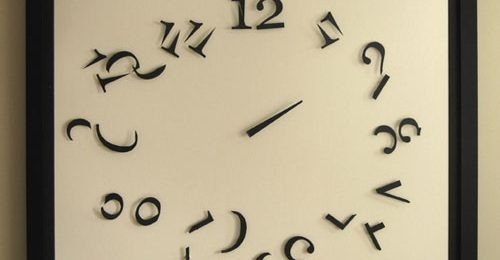 Generally, when we see weird clocks they are watches from Tokyoflash. If Tokyoflash made wall clocks, this would be what they offered. The clock is really big and called Order in Chaos. The clock looks like it has broken into lots of pieces with a single hand in the middle and numbers that are broken.
The single hand is for the minutes and the hour is told by finding the least broken number on the clock. In the instance of the first big image above the time is 12:10. Some of the numbers still look too broken up to me when they are supposed to be active. You can watch the flash demonstration of the clock here to get an idea how the movement works.
As the hours change, the numbers are gradually less fragmented according to the designer. The point of the clock is to illustrate the "self paradigm to overcome the anarchy in you and connect with the universe." If you can't live without the clock, you can order your own customized version now for $2000 plus shipping.