Orange San Diego official: Intel Inside for £199.99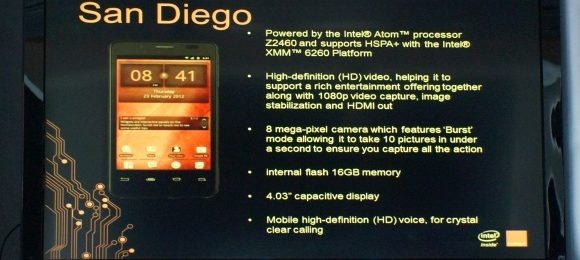 If you've been wondering when you'll be able to see Intel's first smartphone land in tbe UK, you can wonder no more. Orange and Intel have officially announced that what was once the Santa Clara is now known as the Orange San Diego, following the company's previous naming schemes with self-branded handsets. Otherwise it's pretty much the same phone we saw at MWC 2012 with an Intel Atom Z2460 processor clocked at 1.6Ghz.
The phone will come with an eight megapixel camera, capable of 1080p video recording which also includes a Burst Mode. Up to ten pictures can be taken in a single second, and you'll be able to pick the best one out to keep. 16GB of memory is onboard, and Orange is also including HD Voice for crystal clear calls. The screen measure 4.03-inches with a 1024x600 resolution, and Orange is placing an emphasis on how good the quality is for the section of the market it's launching in.
Orange and Intel are being aggressive on price with the phone too: it will cost £199.99 on Pay As You Go, and around £15.50 on a 24-month contract. The phone is due to launch next week too, June 6th to be exact, so you'll be able to pick it up soon enough. We'll be bringing you a hands-on video with the phone shortly, so stay tuned.