ORA "true augmented reality" glasses to ship in January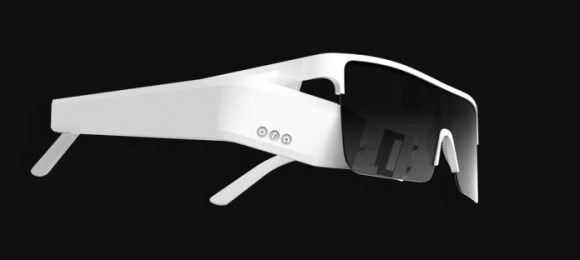 ORA, a wearable computer similar to Google Glass, was showcased today at GMIC San Francisco, the largest mobile tech conference in Silicon Valley. Optinvent, the manufacturer behind the wearable, is billing the headwear as "the only true AR smart glass" on the market. ORA doesn't shy from looking clunky, embracing its necessary bulk with bold styling.
ORA is unique in that it has two modes: a full AR mode and a dashboard mode. In full AR mode, ORA's display appears directly in front of the wearer's field of vision, a feature which Google Glass does not have. In dashboard mode, the display is positioned 20 degrees off center and nearer to the wearer's periphery for a more Glass-like, glance-based UX.

An ambient light sensor automatically adjusts the brightness of the display, which measures in at 85 in. when in a perspective of 15 feet. The aspect ratio is 4:3, with a resolution of 33 pixels per degree. Other specs include WiFi and Bluetooth connectivity, a front-facing camera, a 9-axis motion sensor, a microphone, and a loudspeaker.
The Android-based ORA is accompanied by an SDK partnership with Wikitude. The Optinvent website has ORA running purchasers $949. It ships in January. The company says it is working on a lighter, "more streamlined" version for release in mid-2014.
SOURCE: Optinvent