Optoma HD27 Home Theater Projector packs long life lamp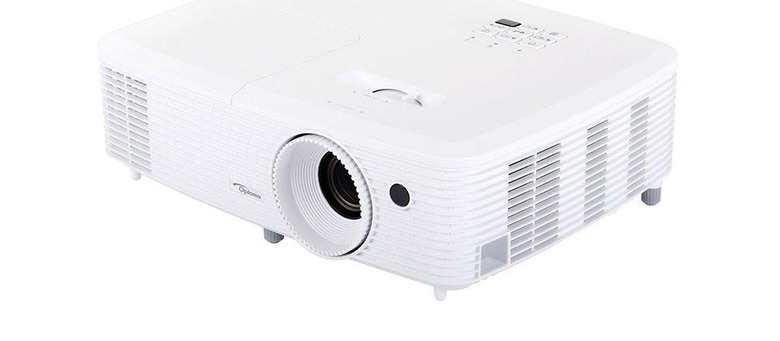 Optoma has announced a new home theater projector for the users out there who want a 1080p projector that has lots of color, contrast, and a lamp with a long life. The new projector is called the HD27 and it is an upgrade to the top selling Optoma HD26. One of the big features of the HD27 is an improved lamp life that is good for up to 8,000 hours.
The projector is also fitted with new color modes that promise accurate colors shown on screen just as they were created in the studio. HD27 packs in sRGB and rec.709 color modes allowing it to reproduce accurate colors for PC, Mac, or HDTV broadcast content and color spaces. Along with that new advanced long-life lamp, the HD27 also has advanced optical lens for sharp and crisp images.
All the updated tech is packed into a smaller form factor than the HD26 and has a rear IO panel making connectivity easier. The contrast ratio for the projector is 25,000:1 and the HD27 is rated at 3,200 lumens of brightness. That is enough brightness for the projector to work well in a room with moderate ambient light. It also means that the projector is bright enough for larger projection surfaces.
Connectivity options include dual HDMI ports, 3D vesa sync port for 3D readiness, and the HD27 is MHL ready. Optoma is also compatible with several wireless devices with a USB port that provides power including Chromecast and the Amazon Fire stick. The projector will sell for $649 and is available now from several online retailers.
"On the heels of announcing the improved HD142X, the top selling 1080p model on the market, we're excited that we can bring more upgrades to yet another top-selling high-definition home theater projector with the HD27," said Brian Soto, head of product management, Optoma Technology. "As more and more millennials are replacing TVs for the flexibility and large image size of projectors, Optoma is delivering two new projectors that deliver the some of the best images out there, for a fraction of the price of HDTVs and competing high-definition projectors. We remain committed to bringing projectors into more homes, and the release of the HD27 and HD142X are designed to do just this."
SOURCE: Optoma