Oppo's Muse G11 is more than your standard PMP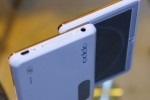 If you're looking for more out of your personal media player (PMP) but don't exactly have the cash to throw down on an iPod Touch, the Muse G11 just might be for you. Unlike the iPod Touch you can plan Super Nintendo ROMs without the need to jailbreak or modify anything.
The bright 3.2-inch, 432 x 240 touchscreen swivels so that it can be flipped open for easy access to the screen without the need to be held like the Nintendo DS. Sadly there is only 4GB of internal memory so you really have to pick and choose what you want to store on this device.
Perhaps the best part of this device is the price, just $161 will beat out just about any PMP. With plenty of features that beat out many other music players such as extensive audio and video formats, text to speech capabilities, and integrated FM tuning make the Muse G11 a real contender against the iPod Touch.