Oppo Super Five, amazing PMP from Chinese Manufacturer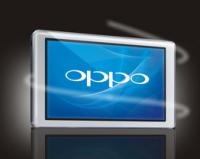 It's called the Super Five, but a more accurate name would be the Super Eighteen because that's how many audio, video, and picture formats this little device supports. All of those format in a package that's no bigger than a credit card except in thickness.
The video formats supported are RM, RMVB, FLV, DAT, MPG, MPEG AVI, and 3GP. The audio formats supported are OGG, MP3, WMA, WAV, dual-APE, and FLAC Lossless.
It has a 3-inch screen with a QVGA resolution and 2GB of storage, every good player has to have that one kind of big shortcoming, this one's is the amount of storage. Oh yeah, it also supports JPEG, BMP, GIF, and PNG picture files. All that for a mere $120.
Oppo Super Five PMP [via i4u]