OPPO Find X Review - Innovative, but not quite there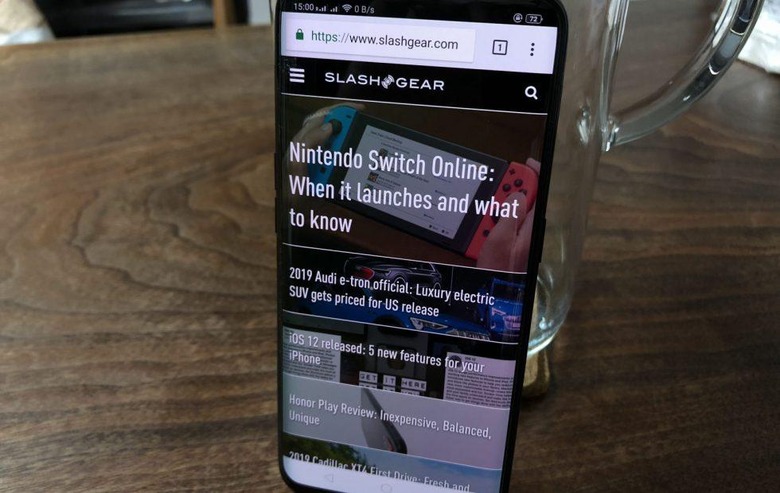 Everyone wants to get rid of bezels these days. Few, however, dare to take that to their logical conclusions. We've seen Vivo's pioneering idea in that regard with the NEX S. But being first doesn't always mean being better, especially without the benefit of hindsight. OPPO has more than just hindsight to bank on, though, and can call upon its experience and partners in crafting its own style of a bezel-less phone with a slider. But is the OPPO Find X really that much better? We put this one of a kind smartphone to the test to bring you that answer.
Design
We'll skip the geeky stuff, for now, to get right into what makes the OPPO Find X special. Wherever you take it out and wherever you use it, it is bound to make heads turn. Some might, of course, mistake it for the iPhone X, but if they take a longer look, they will know it's a totally different breed.
The gorgeous OPPO Find X is immaculately clean, front and back. We've seen many attempts at a bezel-less, notch-less screen like the original Xioami Mi Mix and the Vivo NEX S, but no one comes as close to the ideal than the Find X's 93.8% screen-to-body ratio. There's still a chin at the bottom, yes, and a slight bezel at the top. But they're still the smallest we've seen anywhere.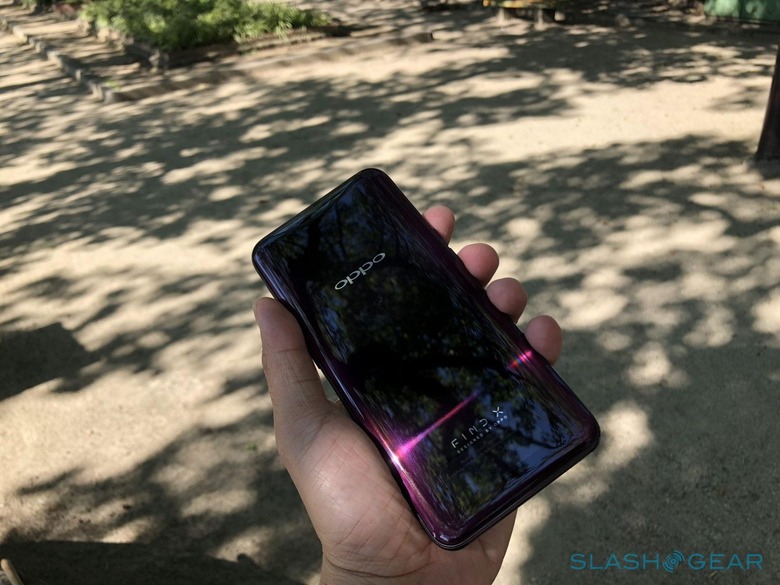 The back is similarly spotless, marred only by OPPO's own branding. No cameras or sensors at all. The glass rear curves at the sides for both ergonomic and aesthetic reasons. OPPO used a multifaceted coloring style where the actual color of the phone, either Glacier Blue or Bordeaux Red, is most prominent at the edges and gradually shifts to black towards the middle. But depending on how you angle the phone, the amount of black can increase or decrease, creating a delightful but subtle play on hues.
There is, however, a price to pay for all that glossy glass beauty. And no, it's not the fact that it is a fingerprint magnet. The Find X is perhaps one of the most slippery phones our hands have held and OPPO's included crystal case, while adding protection against scratches, does nothing to correct that. Given the phone's somewhat questionable durability, it is definitely something you'll want to carefully and tightly hold all the time.
Camera
The Find X's beauty, however, is only made possible by its biggest talent, it's elevating top piece. To say "elevating camera" would be a bit of a misnomer because, unlike the Vivo NEX S, that platform is home not just to the front camera but also to the dual rear cameras, 3D face sensors, and the actual speaker grille. Despite the number of things weighing it down, OPPO's mechanism is solid and, more importantly, fast. It takes less than a second to move up and out, though the time definitely adds up when you're trying to take a quick photo. But while OPPO assures customers that, in theory, it would take around five years for the mechanism to give out, it is something that can only be verified after a few months at least and, heaven forbid, a few accidental drops.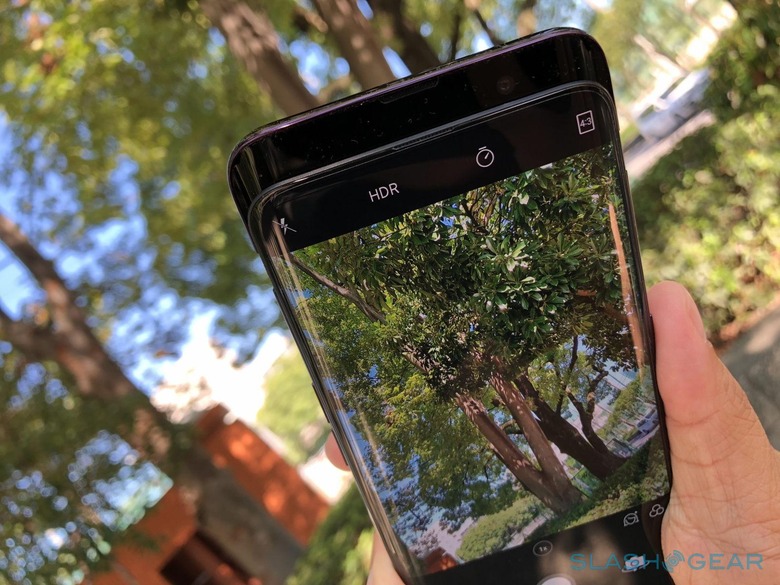 That trick, though reliable and always entertaining, doesn't come without cost. Because of space or cost constraints or both, OPPO didn't have the luxury to splurge on the cameras, features that have become just as important as any other spec these days. Mind, the Find X's cameras are great but OPPO could have also done better. The rear cameras are composed of a 16 megapixel sensor paired with a 20 megapixel one, both with a rather disappointing f/2.0 aperture. Only the main 16 MP camera has OIS and neither have optical zoom.
The result is actually a commendable and impressive pair. The cameras produce vibrant and clear details in bright light, though there seems to be a tendency to oversharpen and blur large patches of contiguous colors, especially in HDR mode. In low-light, the OPPO Find X produces high-contrast shots and well-preserved details at the expense of some acceptable noise. OPPO's AI-powered scene recognition, however, is slow and at times inaccurate. You might prefer to leave it turned off. Fortunately, the iOS-like camera app does offer the usual manual controls for pros.
The Find X has a selfie-friendly 25 megapixel single front camera, also f/2.0 and without any autofocus to speak of. Despite having only one lens, it does produce OK bokehs, thanks to the 3D sensor which we'll get to later. Our main gripe about this camera is really more about its software, but one that most of OPPO's customers are used to and perhaps even demand. That's the overly aggressive beautification mode which tends to result in creamy faces. With the addition of 3D scanning, you can even opt to shave a few inches off your face, favoring the ideal over the real.
Specs & Features
But while OPPO may have had no room for better cameras and lenses, it did have room for something few if not no other Android OEM has: a 3D face recognition system to rival Apple. OPPO uses a similar structured light system that shines 15,000 dots on your face to map it in three dimensions to provide more accurate recognition. And it really works! The Find X unlocks just as fast and accurately as the iPhone X, no matter the lighting condition. And that's even with the front camera and sensor having to pop off first. That is definitely a relief considering you don't have a fingerprint scanner here to rely on as an alternative biometric security method.
The camera slider might be fancy but 99% of the time, it will be the display that will be taking up your attention. Good thing, then, that it's just as beautiful as the Find X itself. OPPO uses a 6.42-inch AMOLED (not Super AMOLED like Samsung) screen that produces vibrant colors. But with only 1080x2340 pixels, it's not as dense as others of that size. That means, at least on paper, less sharp visuals but the 401 ppi density is probably going to skip most users' scrutiny. If there's one thing that knocks off a small point from the Find X's screen is its brightness, causing to squint just a wee bit under direct outdoor light.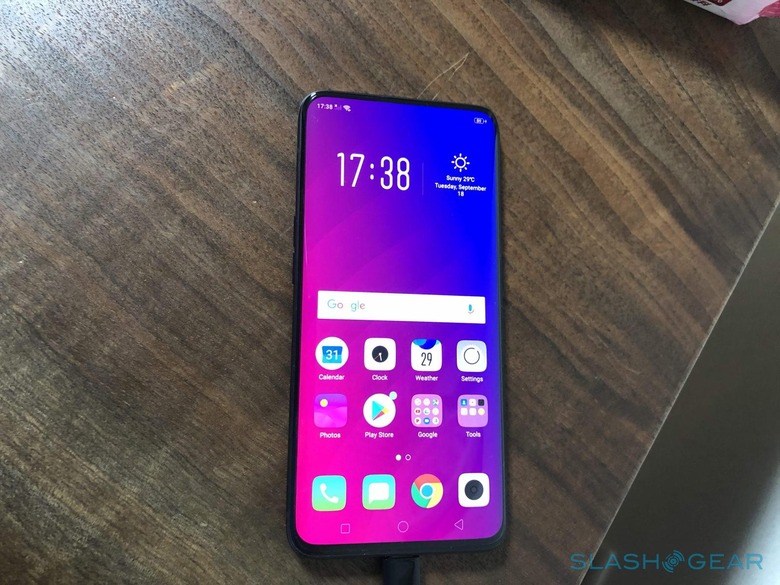 In terms of audio quality, the Find X is less impressive. It's not terrible but it is average and rather unimpressive. While it gets loud, you're unlikely to fill up the whole room with the mono speaker at the bottom of the phone. Plus, bass doesn't go deep enough anyway, so you'll be left with tinny trebles. As for the earpiece speaker, they're serviceable but also forgettable. And don't worry about some fancy bone conduction or piezoelectric vibrating gimmick. The earpiece speaker is in the elevating compartment but the top bezel does have an almost invisible slit to let sound through without having to slide out that part.
Given everything going for it, you'd be surprised at what OPPO decided to cut out from the Find X. As mentioned, there is no fingerprint sensor, even under the screen. There is no wireless charging despite the glass back, and no NFC chip for future mobile payment support. It's not surprising to see no 3.5 mm headphone jack but the lack of a microSD card option on the dual SIM card tray is really a bummer. The one absent feature that may disappoint the most, however, is the lack of dust and waterproof rating. That's rather unavoidable given the Find X has a large moving part. It just doesn't inspire confidence in the longevity of the device. Especially when it's so easy to gather dust and particles at the top of the phone just after days of use.
Performance & Battery
So is OPPO Find X all looks and no substance? Hardly. With a Qualcomm Snapdragon 845, 8 GB of RAM, and the latest Android 8.1 Oreo, the Find X goes through apps and tasks like warm knife through butter. It's fast, responsive, and just what you'd expect from a 2018 flagship. It barely gets warm under heavy load, though you will start to feel it when you game to the max. There is one oddity to it though. While its benchmark scores are, by themselves, superb, the Find X strangely falls behind other 2018 flagships with almost identical specs. Then again, given Huawei's latest confession, we are also unsure how accurate those scores are. Needless to say, you won't have performance worries here.
Antutu:
Geekbench & 3DMark:
And you won't have battery anxieties either. The large 3,730 mAh battery that the Find X is packing is guaranteed to last you more than a day with average use. In fact, it can even last you two days, though it would have to be rather irregular average use. And when your meter turns red, OPPO's proprietary VOOC will get you up and running in no time. Actually in 30 minutes to 50%.
The one metaphorical (thankfully) wart on the OPPO Find X's face is OPPO's own special blend of Android, ColorOS. OPPO's users in China may already be used to it but, for years, they have been subjected to every clone of the iOS interface imaginable. Chinese manufacturers have come a long way but there are still undeniable traces of that inclination to flatter Apple in the greatest way possible. But even if you were to accept the drawer-less home screen, the gesture-based navigation, and rather large icons, ColorOS still comes with unseen burdens. Yes, that's the pre-installed apps and services (read: bloatware) that may bog down the phone or at the very least make performance a bit inconsistent. And it would be fine if you could install and use any default app of your choosing like on any other Android phone. Of course, you could, but ColorOS tends to find ways of making you regret that choice and remind you to use OPPO's own apps instead.
Wrap-up
The OPPO Find X is undeniably one of the most jaw-dropping phones this year. While Vivo was there first, OPPO managed to upstage it quickly with a cleaner design and better cameras. But is it worth investing in this futuristic-looking smartphone today? The answer is actually easy when you consider that the OPPO Find X is prohibitively expensive and in restricted availability. So the real question is whether you should bend over backward to get it?
Like the Vivo NEX S, it is, unfortunately, a rather risky investment. The OPPO Find X will definitely make you want to not just grab it but also hold it tightly too because of its potential durability issues. And while it does get the basics right, it also makes far too many compromises that makes the nearly $1,000 price tag almost too much to ask. The OPPO Find X is a breath-taking first gen product that needs and deserves a refinement. Hopefully, the warm reception, more than actual sales numbers, will inspire OPPO to still make a Find Xs.