OPPO F3 Plus Review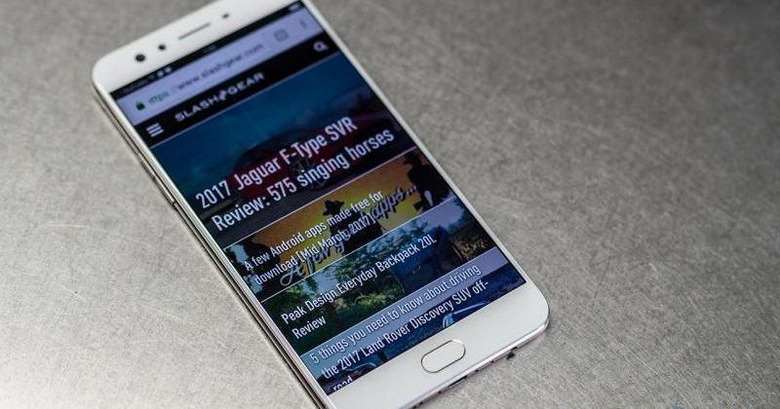 These days, if your smartphone doesn't have defining special feature or selling point, it's going to be forgotten amidst a sea of smartphones whose designs and specs are starting to all look alike. And it isn't enough anymore to have a wallet-friendly price only. OEMs need to offer more. Some boast screens with almost no bezels. Others flaunt dual cameras. The OPPO F3 Plus, which was just announced last week, sort of mixes all those, but with a different twist. Yes, it has dual cameras, but it puts those on the front, making sure you get the perfect selfie, whether by yourself or with others. But how does that promise measure up in practice? We take a long hard look to find out.
Specs
Make no mistake, the OPPO F3 Plus isn't a high-end smartphone. That is, if you only judge by the specs. Of course, very few OEMs market their top of the line devices as "mid-range", unless they are aiming squarely for that market and price tier. Most of the time, they will sugarcoat their words to make device sound more premium, and sometimes it does work.
Truth be told, the boundaries between tiers are blurring again. While base performance still largely depends on what hardware you have, the right mix of components and software optimizations might surprise you in real-world usage. Case in point is this OPPO F3 Plus. It does use Qualcomm's mid-range chip, the Snapdragon 653. But it does have 4 GB of RAM, which, as LG and Samsung have demonstrated, is still the high-end standard. Coupled with the fact that it only pushes pixels inside a 6-inch 1920x1080 rectangle, then you can pretty much presume the CPU and GPU aren't taxed unnecessarily. Here's a rundown of those juicy specs:
• Operating System: Android 6.0 Marshmallow, ColorOS 3.0• CPU: Qualcomm Snapdragon 653, 1.95 GHz octa-core• RAM: 4 GB• Storage: 64 GB, expandable up to 256 GB• Display: 6.0 inches, 1920x1080 367 ppi• Main Camera: 16 megapixel, 1.28-inch, f/1.7, Dual PDAF• Secondary Camera: 16 megapixel + 8 megapixel 120-degree wide angle• Connectivity: Wi-Fi 802.11 a/b/g/n/ac, Bluetooth 4.1, micro USB• Battery: 4,000 mAh, VOOC Flash Charge• Dimensions: 163.63 x 80.8 x 7.35 mm• Weight: 185 g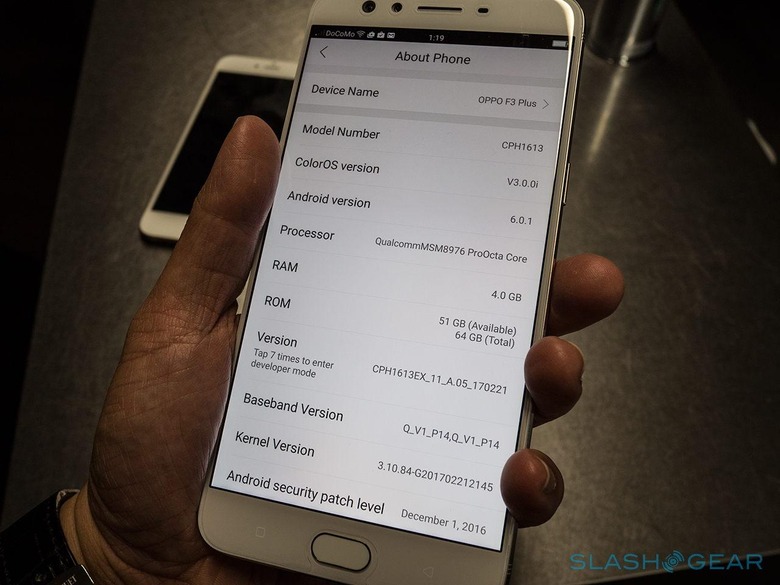 It's rather disappointing to see Android 6.0 in a 2017 flagship model, at a time when 2016 devices are getting upgraded to Nougat and new phones are coming with Nougat right off the bat. And while the 4,000 mAh battery does feature OPPO's VOOC Flash Charge tech, it doesn't bear the "Super" VOOC that OPPO revealed at MWC last year. Strangely enough, none of its phones do.
Design
At first glance, especially from the front, the OPPO F3 Plus will look familiar. And by "familiar" we mean not only does it look like its immediate predecessor, the OPPO F1 line, but also like a fruit-named company's recent smartphones. You have a very white facade, with very large bezels at the top and bottom. The side edges have the usual 2.5D "Arc" glass curve to avoid sharp corners cutting into your palm. That, however, is where most of the similarities stop.
For the sides, OPPO has gone with the classic flat, chamfered edges of old. Somewhat. The difference is very subtle and you probably won't notice it unless you look really closely. And the way that light plays on the surface of those edges make them look more curved than they really are. That said, the back is still a bit curved, especially around the edges, just like an iPhone. But even here, OPPO is throwing in some subtle changes to differentiate its smartphone.
Instead of the much derided iPhone antenna lines, the OPPO F3 Plus has six extremely thin lines, three at the top and three at the bottom. Each line in that "six-string" design measures only 0.3 mm thick. While the change is mostly aesthetic, it is also symbolic, hinting at the smartphone's support for six frequency ranges.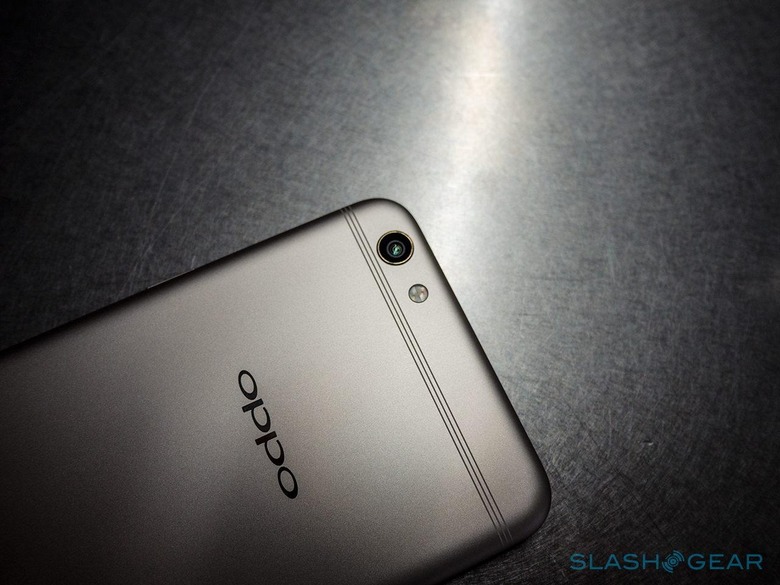 The F3 Plus is an all-metal affair, which, for some, might be a welcome break from all the glass rears and fingerprint smudges we're seeing this year. Glass is pretty and, depending on the type, is more scratch proof, but it also feels more flimsy and fragile. In contrast, this OPPO giant feels solid, almost hefty, offering confidence while not exactly sacrificing premium looks. Glass might be the new black this year, but metal isn't going anywhere.
To some extent, you could almost consider the F3 Plus' design as a throwback to older, but also more proven, styles. It has a familiar face with enough subtle differences to urge you to take a second look. And, yes, the throwback also means there's still a 3.5 mm headphone jack there, for better or for worse. And some will insist, it's for the better.
Performance
Just because the OPPO F3 Plus has mid-range specs doesn't mean it is a slouch. Sure, it's not going to win any race, depending on which benchmark you ask, but, in the final analysis, its real-world performance is what matters most to consumers. And in that regard, the F3 Plus doesn't disappoint.
Operations with the OPPO F3 Plus were as smooth as butter. Multi-tasking has been made easy by the 4 GB of RAM you'd mostly see only in higher tier smartphones. The Snapdragon 653, by the way, is the MSM8976 "Pro", which is Qualcomm's best mid-range chip so far. But for completion's sake, here are some benchmark figures as well. Note that the OPPO F3 Plus is able to rub shoulders with last year's top-tier, and more expensive, models.
AnTuTu
Geekbench
A smartphone isn't just made up of processors and memory, however. In fact, to the user, it is mostly made up of a screen. It's no AMOLED, but F3 Plus' display is as bright and vibrant as any LCD panel can be. In all honesty, there isn't much to be said about OPPO's screens, which hasn't exactly undergone massive changes in the past two years or so. It's probably playing it safe by not changing a winning formula, but a screen size revolution is coming and OPPO might be caught unprepared.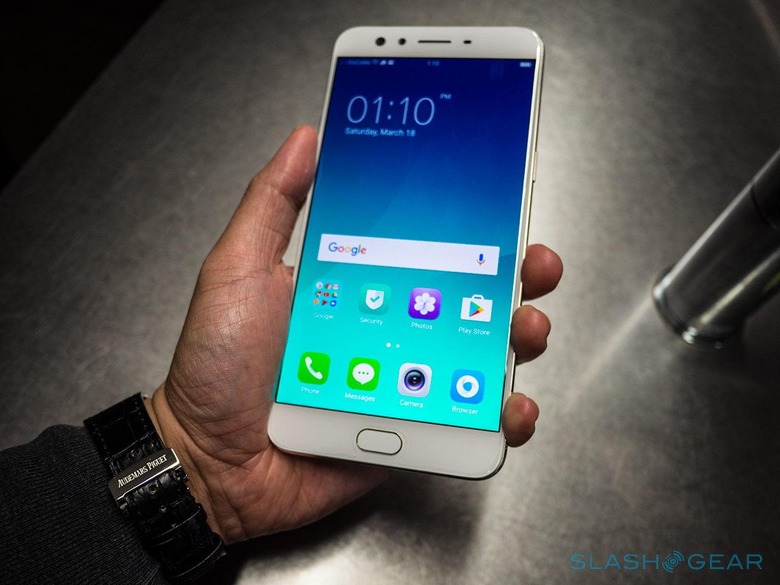 The massive 4,000 mAh battery is, well massive. It's definitely more than your average flagship smartphone, though it is on par with the OPPO F3 Plus' equally massive size. Battery life isn't exactly going to be a problem, especially considering the specs. With continued active use that included a mix of gaming, browsing, and Netflix binging, we got an average of 9 hours. Of course, you will experience longer hours with more relenting and varied usage. The bottleneck for large batteries is usually the charging times, so thankfully OPPO included is VOOC Flash Charge tech. It would have been great, however, if it finally put its Super VOOC in an actual commercial device.
Camera
At the end of the day, the OPPO F3 Plus will be judged by its camera, particularly the two on the front. After all, it calls itself a Selfie Expert, and this time it has two of them. This isn't the first time we've seen this setup on the face of smartphone, mind. The LG V10 had one, before LG decided to trade its place with the main camera on the V20. More recently, the Vivo V5 Plus also touts a tag team, but with a very different implementation.
As it stands, there are currently two ways to implement dual cameras. One uses one sensor for recording more light data, usually depth and contrast, ala the Huawei P9 and P10. The other method uses the second camera for wide-angle shots, ala the LG G5 and G6. The OPPO F3 Plus uses the latter convention for its dual selfie cameras.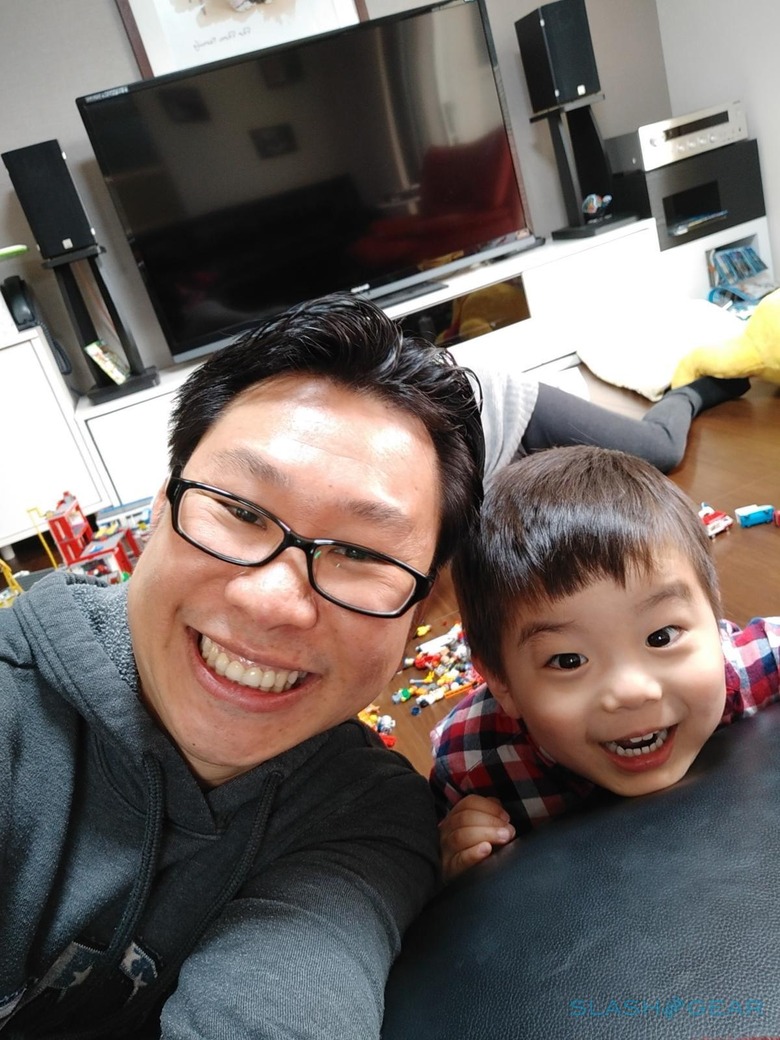 The "main" front camera has a 16 megapixel 1/3-inch sensor with an f/2.0 aperture for taking in your regular selfie or two-fie. The other camera has a lower 8 megapixel count but a wider 120-degree angle lens which is better for packing in a larger crowd. Unsure which one to use for a given occasion? Let the F3 Plus decide for you. When it detects more than three faces in a shot, it will recommend switching to the wide-angle camera to make sure no one gets left out and no feelings get hurt.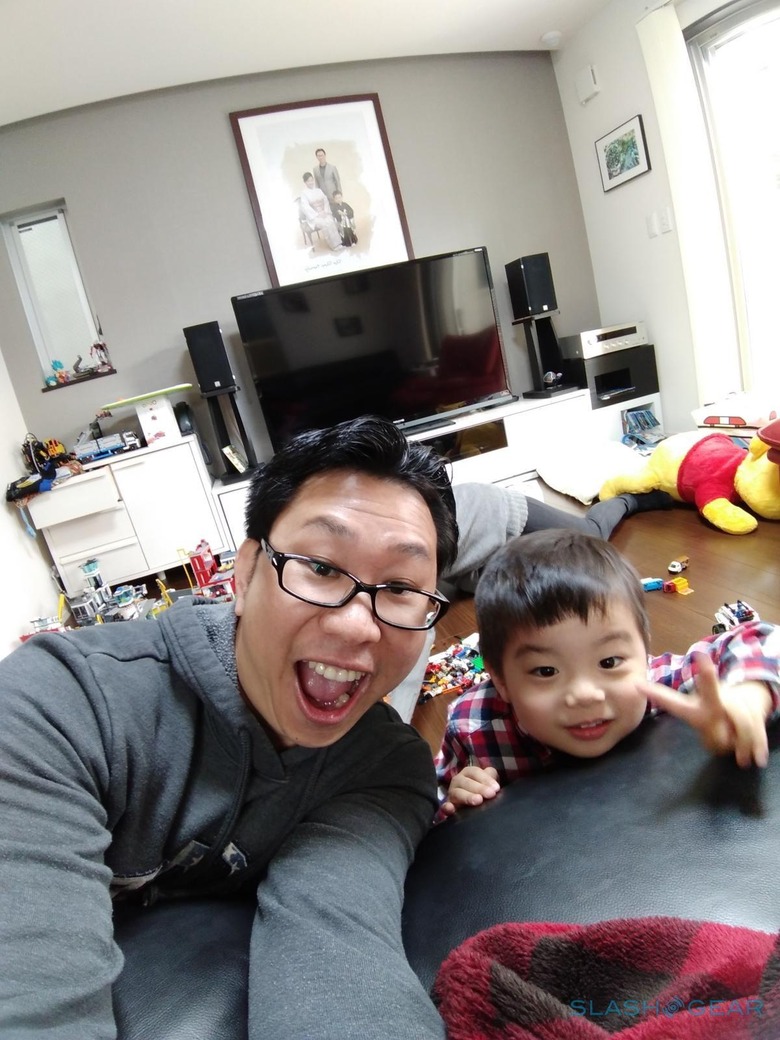 The main rear camera isn't as exciting but is by no means disappointing either. OPPO says it worked closely with Sony to develop an exclusive IMX398 sensor for it. That's a 1.28-inch 16 megapixel sensor with a rather impressive f/1.7 aperture. Definitely larger than most smartphone cameras. Plus, it offers Dual Pixel PDAF for faster autofocus. All in all, the OPPO F3 Plus' cameras are fast, ensuring you won't miss those fleeting moments. It could do with some more brightness and color accuracy, however, and doesn't exactly differ much from its predecessor in terms of quality.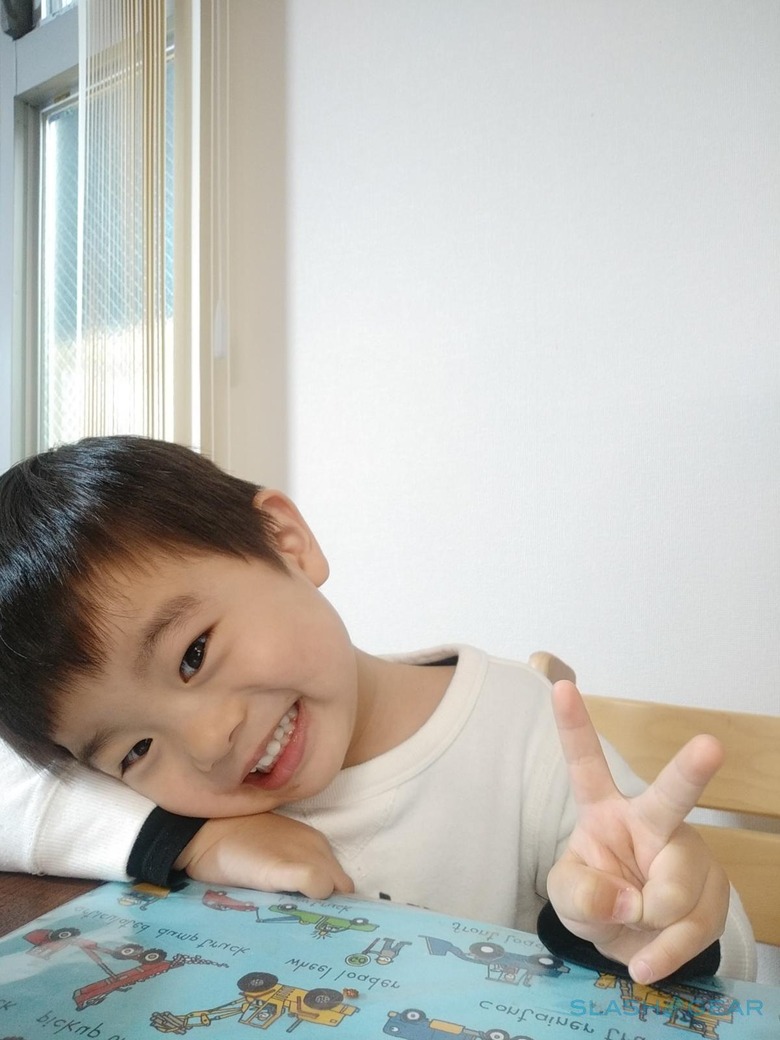 Wrap-up
So how will the OPPO F3 Plus stand out from a host of eerily similar smartphones? The company is carving a niche market that caters specifically to a selfie-loving crowd. A crowd that, more often than not, is composed of a younger generation that is more budget-constrained, if not budget conscious, than the target market of high-end premium smartphones. Big screen? Check. Large battery? Got it. Selfie camera? Obviously, check, twice even! Sub $500 price tag? Of course.
Despite not being top-tier, the OPPO F3 Plus is definitely top-notch and is more than capable of handling what most smartphone users will throw at it. OPPO is often underestimated, undeservedly, even though it comes out with admittedly impressive smartphones every year. The F3 Plus' main enemy, however, will be itself and its past. Aside from the dual front cameras, it doesn't exactly stand out from its predecessors in significant ways. OPPO's F line is due a huge refresh, especially considering recent trends in the mobile market. Hopefully, OPPO will finally be able to integrate its own new technologies that it has been boasting of for the past two MWCs.