OPPO F1s Review
EDITORS' RATING: 7/10
Just as a book is easy to judge by its cover, it's only too easy to judge smartphones by their design and their price. A device that looks like an iPhone with an almost dirt-cheap price tag? Gotta be a cheap knock-off coming from China. That is the stereotype that Chinese OEMs like OPPO face, especially when their smartphones, like the OPPO F1s, do really look like an Apple or even a Samsung flagship. But just like in real life, some things deserve a second, sometimes even third, look. Which is why we gave the OPPO F1s, the new, self-proclaimed "Selfie Expert", a thorough inspection, and we're glad we did. Read on to find out why.
The Goods
Specs
It is somewhat strange that OPPO has christened the OPPO F1s as its Selfie Expert when the smartphone sits somewhat in between the previous Selfie Expert, the OPPO F1, and a more premium OPPO F1 Plus. At least in terms of specs. The OPPO F1s is pretty much a mid-range smartphone that sits just a wee bit below most 2016 flagships in terms of specs. Here's a quick rundown of that, highlighting the smartphone's key features:
Operating System: Android 5.1, ColorOS 3.0
CPU: MediaTek Helio P10 MT6750, 64-bit octa-core 1.5 GHz
RAM: 3 GB
Storage: 32 GB, microSD up to 256 GB
Display: 5.5-inch 1280x720 267 ppi
Main Camera: 13 MP, f/2.2, 1/3.1-inch, PDAF, LED flash
Secondary Camera: 16 MP, f/2.0, 1/3-inch
Battery: 3,075 mAh
Dimensions: 154.5 x 76. 7.4 mm
Weight: 160 g
The Helio P10 isn't exactly MediaTek's highest rated mobile processor, a distinction that belongs to the Helio X series, and even then the OPPO F1s' processor is clocked slower than the OPPO F1 Plus' MT6755. That said, as you'll see later, the smartphone fared quite well for its category. The 3 GB of RAM is similar to the OPPO F1, but the F1s gets double the storage compared to its nominal predecessor at 32 GB. And the OPPO F1 Plus? 4 GB of RAM with 64 GB of storage. And even then you can slot in a microSD card for good measure. Here, the OPPO F1s actually outranks even a Samsung Galaxy Note 7. Whereas most smartphones these days will force you to choose between having two SIM or one SIM and one microSD card, the OPPO F1s' tray has room for all three!
Performance
MediaTek has traditionally been considered, warranted or not, as the "cheaper" alternative to Qualcomm's more ubiquitous processors. The past years, however, it has been shedding off that image and becoming more aggressive in getting its chips in more high-profile devices. And isn't just marketing either.
That said, despite being advertised as a flagship smartphone, the OPPO F1's specs, including its processor, is hardly flagship material. At least for 2016 flagships. As a mid-range device, the OPPO F1s does well for itself. Based on benchmarks, it lags just slightly behind the Samsung Galaxy S5 and Nexus 6, both 2015 smartphones. The OPPO F1s will probably groan under extreme multi-tasking and resource heavy games, but it will handle taking lots of selfies and videos, which is what this smartphone is all about anyway.
In regular, everyday usage, the OPPO F1s operates smooth as butter. Part of its snappy feeling is thanks to ColorOS which is surprisingly light, unusual for a Chinese Android UX. Especially when you compare it to something like Samsung's TouchWiz. Sadly, for a mid 2016 smartphone, the OPPO F1s still runs Android 5.1. And, like other Chinese Android interfaces, it has strong parallels to iOS. Which isn't exactly surprising considering the smartphone's overall design.
Design
Let's get it out of the way. The OPPO F1s looks like an iPhone 6s Plus at first glance, and sadly that will be the only glance and summary judgment most will give it. Never mind it has a more oblong home button. Never mind that it doesn't have atrocious antenna lines. It's clear white face, rounded edges, and Gold and Rose Gold metal backs will undoubtedly make many call it an iPhone wannabe.
While that might be a badge of shame that most would love to pin on these smartphones, they do overlook an effect of the design: the OPPO F1s looks good. It looks premium, which isn't exactly a common occurrence among mid-range smartphones. The numbers are growing, however, which bodes well for the future of mid tier smartphones overall.
Battery
The one rather disappointing aspect of the OPPO F1s is its battery. Not that the 3,075 mAh isn't enough. Indeed, we got nearly 9 hours of use in a single charge. And that's with rather heavy use. Of course, if you're going to take selfies all day long, mixed with the rear camera, you're bound to run empty sooner. And when you do need to reach out for a charge, that's when a missing feature will hit you hard. The OPPO F1s doesn't have the company's much touted VOOC fast charging capabilities, which means charging that rather large pack is going to take a while. This is one of the ways that the OPPO F1 Plus, with near identical specs, trumps the Selfie Expert, as it has that VOOC technology available to its admittedly smaller 2,850 mAh battery.
Display
Now that we've got the basics out of the way, we can focus on some of the ways that the OPPO F1s truly shattered our prejudices, let alone our expectations. And we start with the screen. On paper, it definitely doesn't look all too exciting. 5.5 inches and 1280x720 pixels? That is, of course, a recipe for a mediocre experience. And boy were we wrong.
The OPPO F1s screen was surprisingly bright, crisp, and sharp. And while it technically is HD only, through some trickery or magic, it doesn't look or feel that way. Yes, you are going to get some scaling when you try to view 1080p content, but in almost all cases, it does extremely well. Colors are vibrant and viewing angles are impressive. And for an LCD screen, that's quite a feat.
Fingerprint Scanner
The fingerprint scanner is also one of the pleasant surprises of the OPPO F1s. Truth be told, this is actually the defining feature that distinguishes it from the OPPO F1 and the OPPO F1 Plus, not the selfie camera that it shares with the F1 Plus. The OPPO F1 didn't even have a fingerprint sensor and, while the F1 Plus does have one, the F1s' sensor is actually more capable.
For one, it is extremely fast. Just 0.22 seconds, though admittedly just a tad slower than the F1 Plus' 0.2 seconds. More often than not, the speed and sensitivity of the sensor is taken for granted. But every millisecond you wait adds up to wasted time. And despite being fast, it is still accurate, which can't be said of some fingerprint scanners, even those from big brands.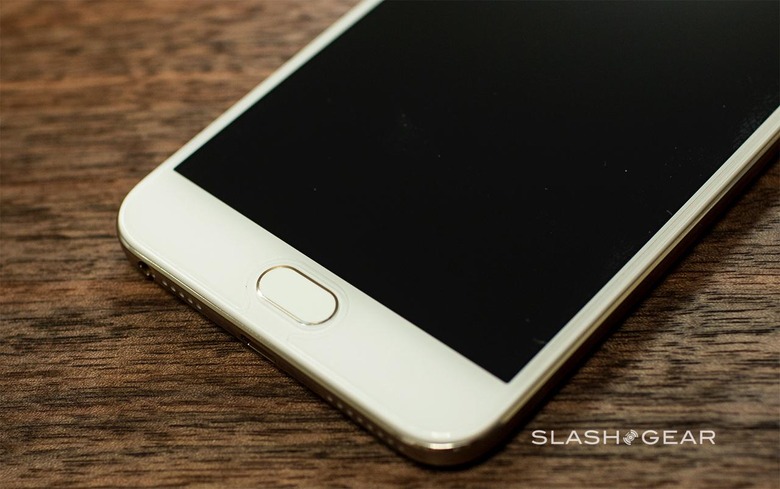 But that's not where the OPPO F1s' fingerprint reader excels. It is impressive because of how OPPO has utilized its speed and accuracy to offer a unique feature on the smartphone. Just as you can easily register more than one, usually up to five, fingers to unlock your smartphone, you can actually assign different actions to each of those five fingers. So while your thumb unlocks your OPPO F1s as normal, your index finger can immediately take you to Facebook the moment you unlock your smartphone. Or your other thumb will let you jump to the camera up in a flash. Huawei and honor may have their swiping gestures on their fingerprint scanners, but OPPO takes off the gloves with this "One Touch" feature.
Camera
And now we get to the meat of the OPPO F1s, what this particular smartphone is all about. While the likes of Samsung, LG, and Apple are in a rat race for the best main camera on a smartphone, OPPO is content to run in a niche category of its own: selfies. This, if you remember, is the very same company who brought the odd, rotating camera in the OPPO N1. But now the OPPO F1s trumps that, not just in megapixel size but also in actual performance.
The F1s' front camera has a 16 megapixel 1/3.1-inch sensor with a lens aperture of f/2.0. Already, it beats its own main camera, which only gets a 13 megapixel sensor of the same size but with a smaller f/2.2 opening. Here, theory and practice meet, and the OPPO F1s lives up to its name as a Selfie Expert. That said, it isn't the only one in OPPO's stable, as the OPPO F1 Plus has the exact same front facing camera.
The OPPO F1s' selfie expertise, however, has one rather puzzling limitation. Like many cameras, the front shooter works best under bright light. It does, however, terribly under less than ideal situations. That's because the OPPO F1s doesn't have a front-facing LED flash, though the F1 Plus doesn't have one either. It simply uses a screen flash, that instantly and temporarily turns your screen white, to make up for the lack of a real one. Sadly. that just isn't enough. It's a disappointing deficiency in a smartphone whose entire essence is dependent on selfies.
The rear camera, though less sensational, is at least decent. It does have its own LED flash, but the smaller f/2.2 aperture basically cancels out the benefit. It does better in low light, but not to the point of being extraordinary.
Wrap-up
By no means is the OPPO F1s a spectacular smartphone. There really is no going around that, despite the marketing. For what it's supposed to do, it does it well, but not to the point of overtaking the more premium, and more expensive, competition. And although it falls short of becoming a perfect selfie machine, it does earn its keep as a Selfie Expert.
But here's the thing: you aren't going to find a more impressive smartphone at that price.
The OPPO F1s goes for around $270 in markets where it is available. The cheapest flagship-level smartphone you'll be able to get your mitts on is the OnePlus 3, but that costs nearly double at $399. And that won't give you a super fast and multi-functional fingerprint scanner or a real Selfie Expert. And that's $399 versus $270.
The OPPO F1s is an unexpected gem in a sea of wallet-friendly smartphones that are starting to all look-alike. Once you get past the initial prejudice of its appearance, you will discover, much to your surprise, a very capable Android smartphone with some tricks up its sleeves. They usually say that you get what you pay for, but with the OPPO F1s, you are certainly receiving a lot more.