Oppo and Vivo just revealed a genius WiFi feature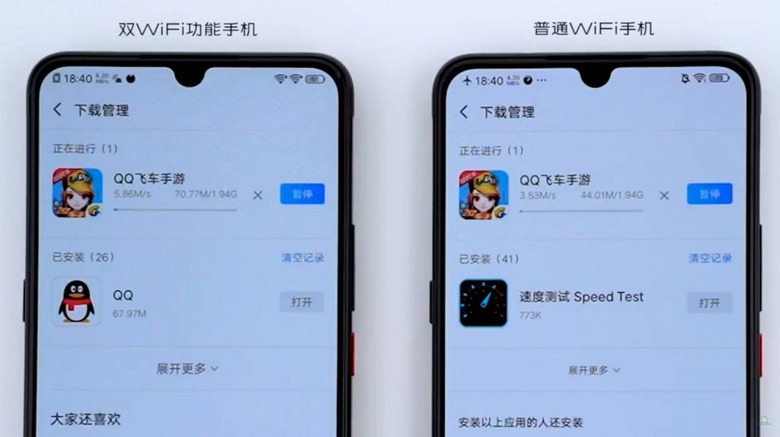 In the constant struggle to stand out in a sea of other smartphones from a variety of different manufacturers, Oppo and Vivo are both looking to make your smartphone's WiFi connection more reliable. Both companies (which are subsidiaries of BBK Electronics) have revealed that their flagship phones will both use Dual WiFi. Today, we got to see it in action thanks to a pair of videos those companies uploaded to Weibo.
In the first video, we see the Oppo Reno 10x Zoom use its Dual Wifi feature to connect to 2.4GHz and 5GHz frequencies at the same time, with the idea being that having active connections to both networks will not only increase stability but also boost download speeds significantly. That much turns out to be true – at least according to Oppo's video – as a side-by-side comparison between two phones shows us that download speeds are increased by a whopping 322% in the phone that's leveraging Dual WiFi.
Things get even clearer when we jump to Vivo's video (both via GSMArena), which shows a number of tasks being carried out on a pair of iQOO phones. The one that's connected to the internet via Dual WiFi is, unsurprisingly, able to carry out those tasks faster. The ability to tap into two different WiFi connections at once is more than just a novelty, as it could do a lot to solve the problem of weak or otherwise unstable WiFi connections that you'll inevitably encounter when you're away from your home network.
Even when you're on a connection you know is strong and fast, using Dual WiFi could still be worthwhile. In that video featuring the iQOO phones, for instance, we see that not only are files downloaded faster over Dual WiFi, but it helps out when it comes to decreasing latency in online games.
So, there you have it: flagship phones from Oppo and Vivo using Dual WiFi in some pretty impressive tests. It isn't the most groundbreaking smartphone feature we've ever seen, but it still has its uses, especially when using publicly accessible WiFi connections that are notoriously bad. Hopefully we see a feature like this in more phones to come, so stay tuned.