Opera outs final Mobile 12 version and talks Mini Next at MWC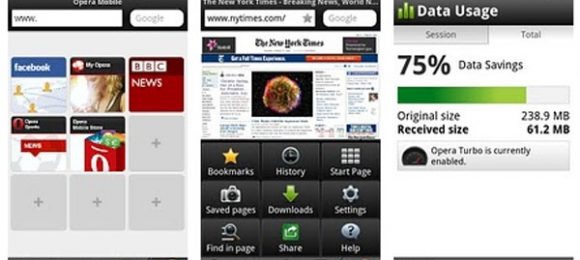 Mobile World Congress is underway in Barcelona with new phones, software, and more being unveiled left and right. Opera is on hand at the show is talking about the Opera Mini Series of browsers aimed at feature phones showing off features that launch this year on the Mini browsers. The goal of this browser is to give more advanced social media functions and web surfing to feature phones making them a bit more like smartphones.
The preview version has some interesting features, including Smart Page that gives feature phones smarter and easier access to social networks, news, and other content. Facebook and twitter are integrated in the first screen of Mini Next for fast and easy access to the popular social networks. The Speed Dial screen is updated with an unlimited number of shortcuts.
Opera has also announced at MWC that the final version of Opera Mobile 12 is launching today. The final version brings WebGL to support 3-D graphics and web content. It also brings HTML 5 parser support for better web apps and increased compatibility with websites running HTML 5. The new version supports the use of the camera inside the browser and brings more customization for Speed Dial.