OpenROV Trident: an underwater drone for hobbyists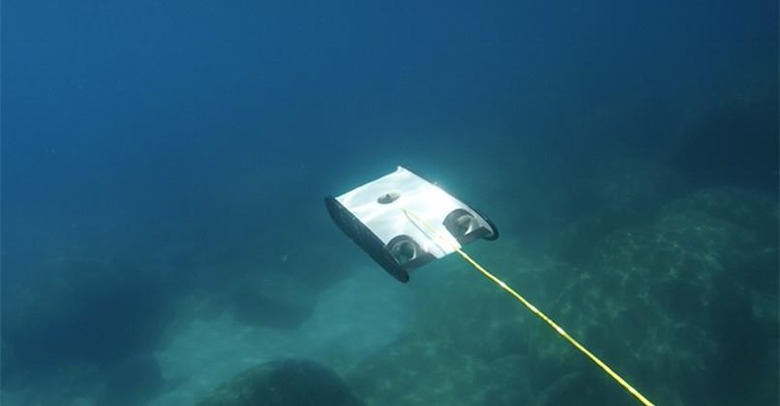 OpenROV has introduced a new underwater drone, and it is designed for the everyday consumer — those who want to explore under the water and have fun rather than collect research data. The drone is called Trident, and it is many things: fast, portable, nimble, and priced in the same range as aerial drones. Says the maker, OpenROV Trident is zippy enough that it "flies" under the water.
OpenRV has been working on underwater robots for a while; Trident is its latest creation, having made its public debut at the beginning of the week. The underwater drone is attached to the operator via a yellow cable tether — it features integrated LED lights, can be steered in just about any direction, and has both low and high speeds.
The cable tether delivers video to the operator from onboard cameras, while a trio of thrusters provide the motion. The unit will be sold with a 25 meter tether, but OpenROV plans to offer longer tethers separately. Overall, the device has a top speed of 2m/s, and it can run for up to three hours on a charge.
OpenROV was only seeking $50,000 USD on Kickstarter, but it has already greatly exceeded that amount, currently sitting at $381,000 USD with more than a month remaining. The Super Early Bird units have already sold out, but the Kickstarter special is still available with a pledge of $949 USD. The planned retail price will be $1,199 USD. Shipping is expected to start next November.
SOURCE: Kickstarter