Oombrella connected umbrella reminds you to take it with you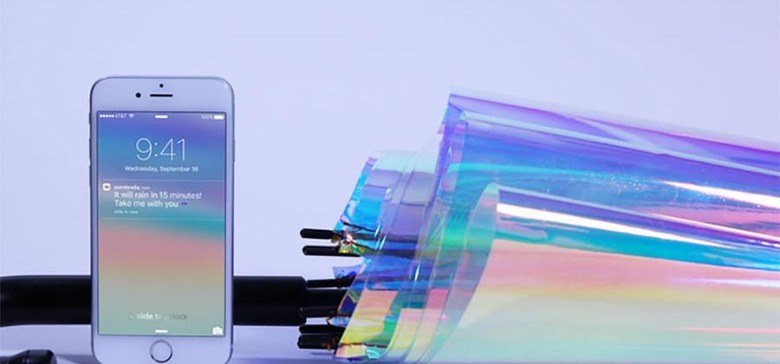 I think we can all relate to those days when the forecast is bad, but you forget your umbrella at home when you leave for the day. It's annoying to fight the rain when you walked out the door leaving your umbrella behind. A new connected umbrella called the oombrella may eliminate the chance of forgetting to take an umbrella with you.
Oombrella is a connected umbrella that sends notifications to your smartphone reminding you to take it with you if it is supposed to rain. The weather service that the umbrella uses is hyper-local aiming to make sure it will actually rain in your location. The Oombrella has heavy duty ribs designed to make it extremely wind resistant. There are three different colors available for you to choose from.
You can get the Shiny edition that looks like a bubble with rainbow colors on its surface, White Edition, or the Black Edition. There are multiple sizes to choose from including a classic size or a smaller version that can fit inside some bags or purses. Sensors in the handle track temperature, pressure, humidity, and light.
Oombrella also has a mount on the top for a GoPro camera. Alerts include reminders if you leave it behind, weather alerts for bad weather in your area, and the ability to share weather data to the wezzoo community. The umbrella will also alert you if you leave it behind when you start to walk out of the office or a restaurant. The classic version is 3.1-feet and has a curved handle with the bag fit version measuring 0.82-feet. The ribs on both versions are made of Kevlar. Oombrella is on Kickstarter seeking a bit over $65,000 and with 29 days to go has raised almost $28,000 at the time of writing.
SOURCE: Kickstarter