Onyx Boox Typewriter is an ebook reader and a laptop in one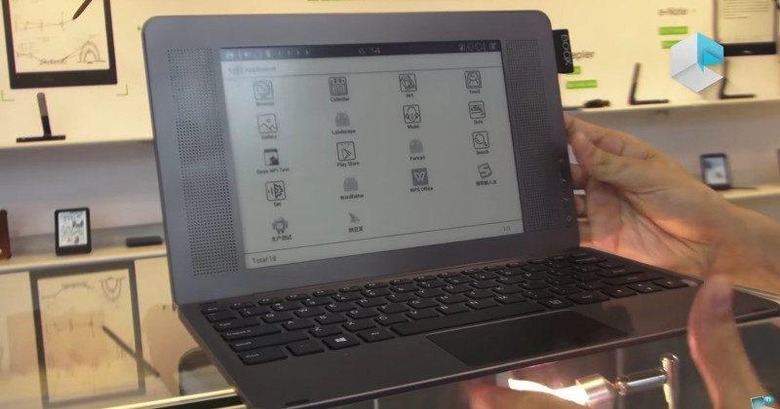 2-in-1 tablet/laptop hybrids are in fashion these days. In fact, analysts like IDC tout them as the saviors of the PC industry. But the form factor is also seeing some interest in more than just PCs. They've also come to tablets and even e-ink readers. Yes, you heard that right. A company by the name of Onyx International has just revealed its Onyx Boox Typewriter prototype that is, for lack of a better term, a 2-in-1 e-ink laptop. And that's not the only interesting, or strange, thing about it.
Book readers who have gone digital swear by e-paper e-ink displays. Not only are they gentler on the eyes, they also require exponentially less power than LCD or AMOLED screens. That means their ebook readers can last for weeks on a single full charge. But that same technology has mostly limited such devices to just being that: ebook readers. Onyx, however, thinks they can be more.
The Onyx Boox Typewriter looks like your average 2-in-1 detachable laptop and would even feel like one because of the metal build. In contrast, almost all e-ink readers have plastic bodies. The only difference from a 2-in-1 laptop is that the Boox's screen is a 9.7-inch 1280x825 e-paper display. Which makes it perfect for reading ebooks when detached from the keyboard. When attached, it makes for an eye-friendly word processor, black and white web browser, and more.
That "more" part comes from the fact that the Boox Typewriter is actually a very odd Android device. It runs on an old 1 GHz Cortex-A9 processor with 1 GB of RAM, and 16 GB of storage. That's all fine since this is an e-ink device we're talking about anyway. But, under the hood, it actually runs an equally old Android 4.0 version. That's Ice 2011's Ice Cream Sandwich, in case you've forgotten. As an added bonus, the device supposedly supports an electromagnetic (EMR) pen, allowing users to scribble on the text.
So what will the Boox Typewriter be for? Onyx's official spiel is that it is perfect for the mobile worker who needs to type outside while keeping their eyes healthy, some of the benefits of e-ink screens. It's not hard to imagine the device being useful for students and bookworms as well. What is hard to imagine, however, is the extra slow refresh rate of e-paper trying to catch up with fast typing, not to mention the weight that all that metal will bring. That said, the Boox International shown off at the Hong Kong Global Sources Fair is but a prototype of a product that isn't expected to launch until early 2018.
VIA: Liliputing