OnStar to offer Santa location updates Christmas Eve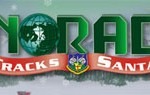 One of the biggest days of the year for kids is coming up this week with Christmas Day on Saturday and Christmas Eve on Friday. Kids all around the world will be wondering exactly where Santa is on his yearly trek to bring gifts to the kids of the world.
I know last year my kids had me checking the NORAD Santa Tracker every ten minutes to see if he was near our house and figure out the latest possible moment when they could go to sleep. Starting at 6am on Christmas Even kids can get updates by pressing the OnStar button on GM vehicles equipped with the service and request a "Santa Update" and the position of Santa will be given until 5am Christmas Day.
"We are excited that OnStar is a NORAD Tracks Santa program sponsor once again this year," said James Graybeal, deputy chief of staff for communication, Headquarters NORAD and USNORTHCOM. "OnStar adds another layer to the program. In addition to tracking Santa on the web or by calling in to the operations center, it's neat that you can locate Santa by pushing a button in your car, wherever you are."