Onkyo announces iPod/iPhone U-Port devices and HD radio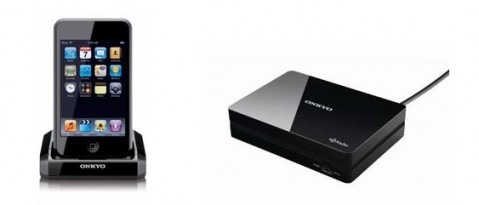 Onkyo has debuted two new devices: one dock for iPod and iPhone that takes advantage of the U-Port (Universal Port) that is proprietary to Onkyo, and an HD radio. The iPod/iPhone dock uses the U-Port's single cable connection for complete control of the docked device.
The Onkyo UP-A1 dock and charger for iPod lets users listen to content on their iPhone or iPod directly through their home theater entertainment system. The dock recharges the device, and allows the user to control the functions using their Onkyo AV receiver remote control. The dock is compatible with nearly every iPod and iPhone model, and is the first Onkyo dock to carry the Made for iPod certification. The UP-A1 dock and charger will be available in May for $109.
The Onkyo UP-HT1 HD Radio tuner will allow users an easy way to add HD Radio reception to a U-Port-equipped receiver. All control and display functions for the device are integrated into the receiver's front panel and remote control. Users can also daisy chain more than one UP enabled device using the expansion option in the enclosure. The UP-HT1 will be available in July for $159.