Onkyo adds streaming capability via app and Bluetooth adapter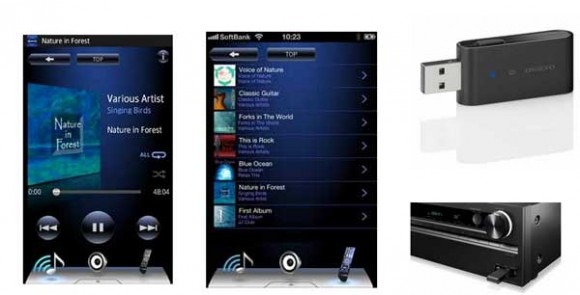 Onkyo has announced some new additions to its 2012 receiver line including a Bluetooth adapter and upgraded apps. Onkyo has upgraded its iPhone and Android apps along with announcing the company's first Bluetooth adapter for streaming music using its receivers. The upgraded Onkyo Remote 2 app for the iPhone allows music to be streamed from the iPod touch or the iPhone directly to any 2012 model network receiver using a Wi-Fi network.
The streaming is done via the app in CD-quality 44.1/16 bit rate. The app also shows track name, album name, artist name, album art, and time data. Onkyo is also announced that its Android app now supports the streaming of music directly from the Kindle Fire. Both apps also add in improved remote management functions for zones and support for music throughout zones.
Onkyo is also now shipping its first Bluetooth USB adapter for streaming music called the UBT-1. The adapter uses CSR aptX compression reduction codec to restore natural range audio files. The adapter allows for a frequency response of 10 Hz to 22 kHz with a dynamic range of 92 dB. The adapter uses Bluetooth 3.0 and plugs in the front USB port of any 2012 Onkyo network receiver model TX-NR 414 and up. The Bluetooth adapter sells for $59 and is available now with both apps available at no cost.