OnePlus TV's secret weapon is Samsung display tech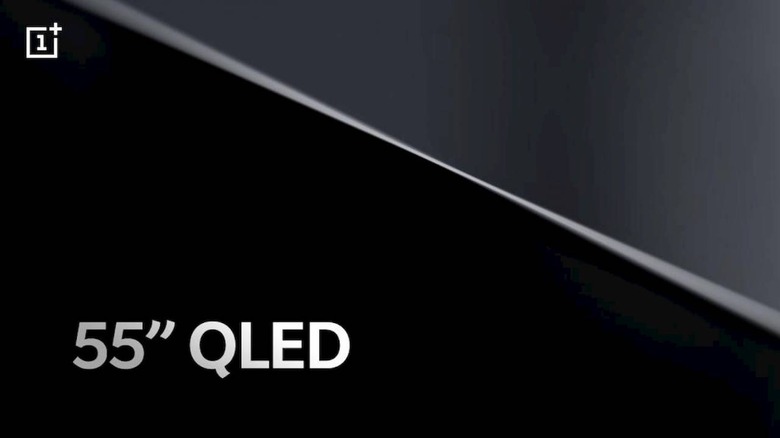 Earlier this month, OnePlus confirmed that it does indeed have a TV in the works. The company hasn't shared very many details about this TV yet, seemingly preferring to reveal things about it gradually. So far, we've seen the logo and we've learned that it'll launch first in India, and today, OnePlus is sharing the first details about the TV's actual hardware.
As it turns out, the OnePlus TV will be sporting a 55-inch QLED display when it arrives next month. QLED is Samsung's acronym for quantum-dot LED, a relatively new type of display tech that uses LED backlighting. With that in mind, that means the display on the OnePlus TV will almost certainly be made by Samsung, and when it comes to display partners, OnePlus could certainly do a lot worse.
Upgrade to an unparalleled viewing experience with a 55" QLED display on the OnePlus TV 📺

Get notified – https://t.co/LTDvaPHwH0 pic.twitter.com/Wyg4aONW9W

— OnePlus India (@OnePlus_IN) August 22, 2019
Elsewhere on Twitter, OnePlus India also confirmed that the TV will feature Dolby Vision HDR. We see Dolby Vision pop up often on smart TVs, so between that technology and its QLED display, the image quality of the OnePlus TV sounds pretty good – on paper at least.
Be a part of the picture and live every moment with @DolbyIn Vision on the OnePlus TV 📺

Get notified – https://t.co/LTDvaPHwH0 pic.twitter.com/1oZyswQTmf

— OnePlus India (@OnePlus_IN) August 23, 2019
Of course, the fact that this TV will use a QLED display that supports Dolby Vision HDR inevitably brings us to the question of price, but that's something OnePlus hasn't revealed yet. Samsung itself offers 55-inch QLED 4K TVs that range in price from $1,199.99 to $1,999.99, but that may not be a good indication of where the OnePlus TV will land considering all we don't know about it.
Both of those tweets from OnePlus India also host a "Notify Me" link that leads to an Amazon page, so it looks like the TV will be offered through Amazon India when it launches next month. There's plenty left to learn about the OnePlus TV in the coming weeks and months, so stay tuned for more.