OnePlus On-Guard by Assurant warranty comes to US, Canada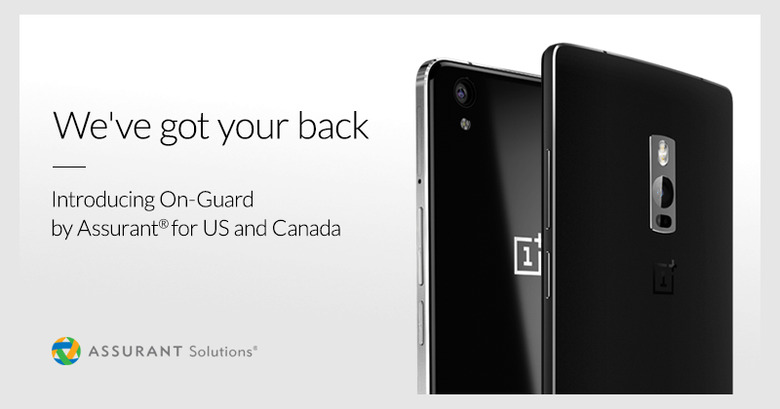 Earlier this month, OnePlus announced two new programs that would help encourage buyers to forego the usual carrier purchase of smartphones for direct, unlocked devices. The On-Guard warranty program, made in partnership with Assurant was launched in Europe while India had more direct B2X programs from OnePlus. As promised, the Chinese OEM is opening up the same protection opportunities for those in North America. Now brand new buyers of a OnePlus 2 or the upcoming OnePlus X will be able to apply for an On-Guard plan of their choice.
The On-Guard program for the US and Canada are slightly more complicated. There are three tiers, called On-Guard 12, 18, and 24. The most basic is On-Guard 12, which only offers Extended Service Coverage or ESC, which only covers hardware failure due to manufacturer defect. It's good for only 12 months but costs the same $20 for both smartphones.
On-Guard 18, on the other hand, only gets 6 months of ESC. It does, however, get 18 months of Accidental Damage from Handling or ADH, which includes drops, liquid spills, and cracks. At the highest level is the On-Guard 24, which offers 12 months of ESC plus 24 months of ADH.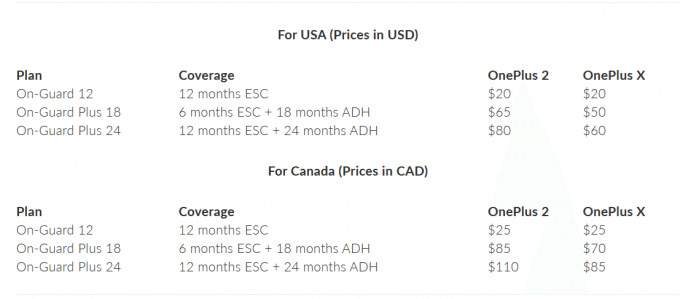 Unlike the European counterpart, On-Guard in the US can only be enrolled upon the purchase of a new OnePlus 2 or X. There is no grace period for slightly new purchases though OnePlus says that it is working with Assurant to offer a second chance enrollment.
Warranty programs such as this, paired with installment plans or, in the case of OnePlus' smartphones, wallet-friendly prices, try to give consumers some peace of mind while weaning them off the traditional carrier subsidies. This is a strategy many manufacturers are starting to employ in order to have more direct sales with consumers instead of banking on carriers to offer their devices to their subscribers. It's an idea that's still in its infancy, so it might take some time before it finally sinks into the minds of US consumers.
SOURCE: OnePlus