OnePlus is showing off 5G with an online snowball fight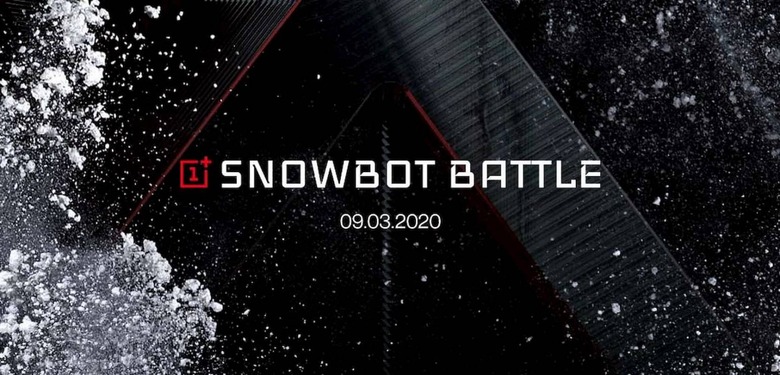 5G is exciting for a multitude of reasons, and OnePlus is setting out to show off how speedy it really is. It's doing that by building a hanful of Snowbots – robots that are powered by 5G and are capable of firing snowballs. It'll be hosting an event that will let participants control these Snowbots in real-time – or at least as close to real-time as 5G will allow.
The event will pit two teams of two Snowbots against one another and allow human participants to control them from their smartphones. The goal is simple: hit the opposing Snowbots more than they hit you. Each player will only get one chance to control a Snowbot, and when their turn arrives, they'll only have eight snowballs at their disposal.
You'll need a OnePlus phone to participate, and though this event is intended to show off the speed and low latency of 5G, you'll also be able to control the Snowbots over a WiFi connection. The event kicks off on March 9th at 7AM EST/12PM GMT, and it'll begin with a live demonstration of the robots and their snowball-firing prowess, after which the remote players will take over.
OnePlus says that the Snowbots will be waging war 24 hours a day until March 12th at 10PM GMT. Each match will take only a few minutes, with OnePlus saying that "hundreds" of games will play out over those three days. In anticipating a lot of demand to control these Snowbots, OnePlus has implemented a queue system. When the event is live, you'll join the queue by heading over to this page on the OnePlus website, and you'll later receive a browser notification when it's almost time to play (so keep your phone's browser opened).
OnePlus is also hosting a giveaway the will see winners shuttled away on a trip to Lapland to see these robots in person. To enter to win, you can leave a comment on the OnePlus forum post announcing this event. Otherwise, check out the livestream embedded above on March 9th to catch the start of the event.