OnePlus 7T renders baffle and disappoint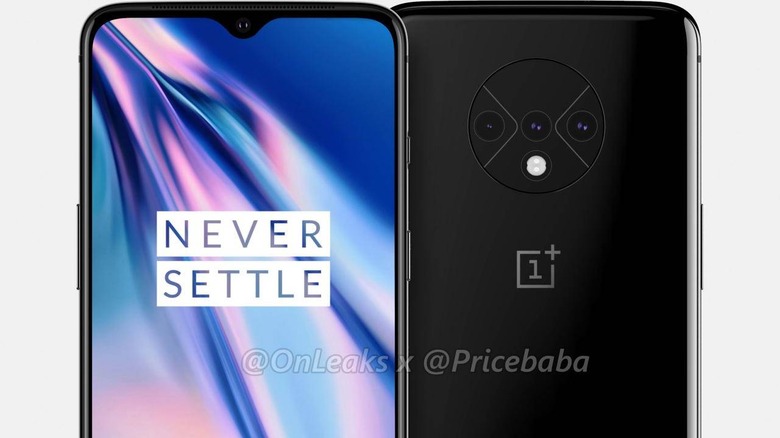 Although OnePlus news of late has mostly been about its upcoming smart TV, it may still have or two smartphones prepared for this year. Just like in the past three years, it may have a OnePlus 7T and OnePlus 7T Pro in the works, though it's still unclear how much the two will differ from the early 2019 flagships. Renders of the smartphone have now surfaced and while it may seem to confirm rumors of a triple camera setup, OnePlus seems to have taken a rather odd route to get there.
If you look at it from the back, this OnePlus 7T is unlike any OnePlus you've laid eyes on. For one, it has a circular camera bump much like the Moto Z series or the upcoming Huawei Mate 30. Strangely, however, the arrangement of the sensors in that round bump is both unconventional and probably inefficient.
All three cameras are arranged horizontally in a row above the LED flash. That means three sensors are squeezed together and cramped for space. The top area is virtually unused and wasted. Additional, the indents separating the three cameras form an unusual "X" that seems out of place.
The front is less perplexing and more disappointing. Nothing has changed here, from the small waterdrop notch to the flat screen. If anything, this hints that the OnePlus 7T is might stick close to the OnePlus 7's design and that there will be a OnePlus 7T Pro to offer curved edges instead.
The only other key difference known for now is the switch to a Snapdragon 855 Plus. Given OnePlus' still debatable performance in the camera department, the addition of a third sensor might not be all that compelling. We might not have to wait too long to find out with IFA 2019 just a few days away.