OnePlus 7 Pro NYT teaser spills all, get DisplayMate's highest score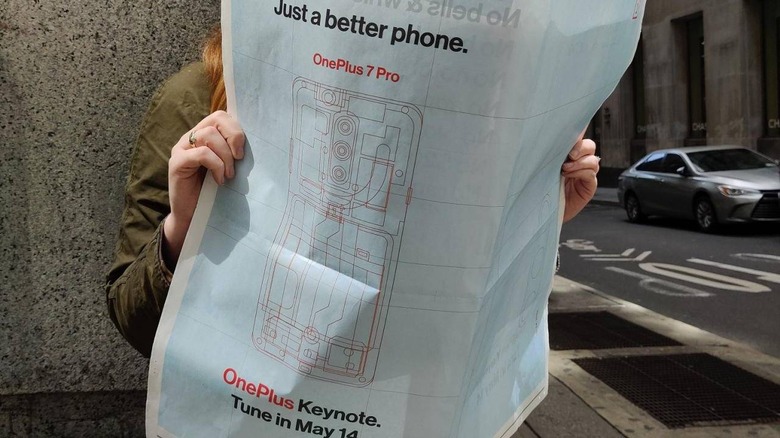 It isn't even May yet but OnePlus might already be preparing a celebratory party. In two weeks, it will be making history, at least its own, by launching a flagship and a Pro variant. Only one of those, however, will be grabbing all the attention and awards. In fact, that all seems to be starting now, with OnePlus' own New York Times ad and DisplayMate's not so subtle teaser setting the tone for the OnePlus 7 Pro's debut.
OnePlus has been uncharacteristically quiet the past weeks about its upcoming OnePlus phone. In the past, it would be dropping forum posts talking about this or that feature. While there's indeed still time to do that, it seems that it has already dropped most of the important bits in its advertisement on the New York Times.
Full page ads showed up on the NYT's physical publication presenting various aspects of the OnePlus 7 Pro, including the wireframe "redprints" it has used in a recent Twitter teaser. It also included text that plainly tells that the phone won't have bezels or a notch. Of course, only the latter is technically possible.
Having no notch these days would translate to a few possible gimmicks but those same paper ads already contain the answer. The blown-up schematic of the phone shows the front camera in a motorized contraption. In other words, a popup camera as consistently rumored before.
The hype train doesn't stop there, of course. DisplayMate tweeted that it will be publishing its review of the OnePlus 7 Pro on the day the phone will be announced, May 14, and that it has given it its highest A+ rating ever. If there was a letter higher than A, it would probably get it.
DisplayMate's in-depth Lab Tests of the OnePlus 7 Pro OLED Display have just been completed, earning our Highest A+ Display Rating. Our in-depth Display Shoot-Out will be published here on May 14.

— DisplayMate Tech (@DisplayMate) April 29, 2019
The OnePlus 7 Pro will be using an OLED (specifically AMOLED) screen like its predecessors but what could be its selling point is its 90 Hz refresh rate. DisplayMate has barely tested screens with that feature and it could very well set the standard for future smartphones.