OnePlus 7 and OnePlus 7 Pro differences detailed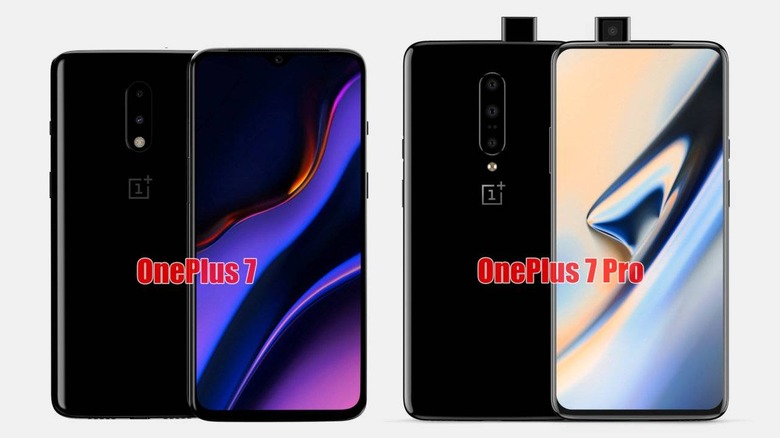 OnePlus seems to be mixing things up this year. In the past, it would launch a flagship in the first half of the year followed by a "half step" iteration in the latter half. It did warn that it wasn't a pattern set in stone but few probably expected this change in strategy. Next month, the "flagship killer" will be announcing two phones and one 5G variant but, as expected, the OnePlus 7 and OnePlus 7 Pro won't differ only in name.
Much of the attention has been given to the possibility of the OnePlus 7 having a rather divisive popup camera. Fortunately, OnePlus may actually give buyers the option to skip that. Unfortunately, they will also be missing out on other features in the process.
According to a recent leak from Mr. Steve H.McFly, a.k.a. @OnLeaks, the "base" OnePlus 7 will have a 6.4-inch screen and no popup camera. Instead, it will have a waterdrop notch on its very flat display. It will also have only two cameras on its back, a 48 megapixel main sensor and an unidentified secondary one, quite possibly just a depth sensor.
The OnePlus 7 Pro will be the one with a popup front camera and a 6.64-inch (some say 6.67 inches) curved edge display. More than being its first with a popup camera, however, this Pro version will also be the first of its kind to have three cameras on its back. According to the leak, that's one 48 megapixel main sensor, a telephoto camera, and an ultra-wide camera.
Of course, there will be the 5G variant of the Pro model, probably called the OnePlus 7 Pro 5G, for even more fun and expenses. All three are expected to be announced on May 14, though the availability dates, especially for the 5G phone, may come later.